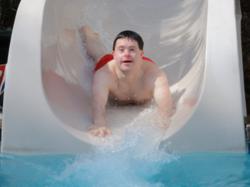 "Vanguard Landing will be a jewel in the crown of Virginia Beach—one that will help make Virginia Beach a true Community for a Lifetime for all citizens."--Virginia Beach Mayor Will Sessoms
Virginia Beach, Virginia (PRWEB) October 01, 2012
Vanguard Landing, Inc., a Virginia-based 501(C)3 non-profit organization, is building an agrarian-based, self-sustaining residential community for mild to moderately intellectually disabled adults in southern Virginia Beach, Virginia, representatives announced today at a 10 a.m. press conference. Addressing more than 100 attendees at Blue Pete's Restaurant on Muddy Creek Road, Virginia Beach Mayor William D. Sessoms praised the future community's mission of serving the residential and vocational needs of this growing segment of the city's population, in an inclusive, socially integrated environment. "Vanguard Landing will be a jewel in the crown of Virginia Beach—one that will help make Virginia Beach a true Community for a Lifetime for all citizens."
Virginia Beach is home to approximately 10,000 intellectually disabled persons--its largest population of adults with special needs--of which more than 7,000 are classified within the mild to moderate range. Virginia is currently ranked 47th of the 50 United States for funding for people with disabilities resulting in a recent citation by the Department of Justice. Due to the statewide shortage of essential resources with mild to moderate intellectual disabilities, the majority of these Virginians live in settings such as nursing homes and institutions, or at home with aging parents.
Historically and currently, no organization or provider in the Commonwealth of Virginia encompasses a full spectrum of living, working and socializing for adults with mild to moderate intellectual disabilities within a single, dedicated community setting. Virginia has a documented longstanding and pervasive lack of viable choices in residential, vocational and recreational opportunities. This shortage is evidenced by inequity in demand vs. range of available services and service providers. To access the few current options, each individual must have an assigned federal Medicaid Waiver funding slot for "most urgent/hardship need" issued by the Commonwealth of Virginia. This waiver, available by application, allows the individual to choose from various providers to access services in a residential setting, training in life skills, medication assistance, vocational and recreational services, and to use Medicaid funds to pay for those services. Nearly 6,500 Virginians are currently on the waiting list for a waiver, up from 3,000 in 2009. Of this total, more than 380 individuals reside in Virginia Beach. The surrounding communities all have similar waiting lists. As of July 2012, approximately 6,500-10,000 intellectually disabled people reside in Virginia Beach; 70 percent of these individuals are in the mild to moderate range. These 4,500-7,000 Virginia Beach residents will require housing and employment opportunities within the next 1-18 years. Currently, neither municipal nor independent community service providers have the resources to meet these individuals' needs, leaving the majority of this population either underserved or competently unserved.
"Walt Disney said, 'If you can dream it, you can build it,'" stated Debra D. Dear, Founder and Executive Director of Vanguard Landing. Dear, a former educator whose 30-year-old daughter, Lindsey, is intellectually disabled, developed the concept for Vanguard Landing after discovering the shortage of options available to intellectually disabled adults in Virginia. "I'm fortunate to have a large, supportive family network for my daughter, but there should be more opportunities for her and other intellectually disabled citizens of our city and state. We, in Virginia, are overdue for this option for our population—our family and friends. Similar communities in other states are full with waiting lists, paying their own way, and have substantial economic impact on to the community at large."
Phase one of the Vanguard Landing community, projected to open in 2017, will include 4-5 residential cottages for 24-30 residents, an equestrian center, the "Gathering Point" center featuring a café, laundry, classrooms and a computer lab, and a seasonal farm market and thrift store. The community will also offer day programming for an additional 20 people and employ a professional staff of 10. The completed community will accommodate 100-300 residents and 50-100 day program participants. Vanguard Landing management is currently in negotiations with a Southeastern Virginia Beach landowner to purchase a 75-acre parcel of land in the City's transitional area.
The organization has implemented a two-phase campaign to fund, construct and manage the community, which offers a fully-integrated community life experience on and off campus, including an agricultural program and seasonal farm market, therapeutic riding program, swimming pool, basketball court, thrift shop and cafe . The Vanguard Landing community will also offer day programming, employment and recreation activities for mild to moderately intellectually disabled, non-resident adults.
"The City of Virginia Beach, Department of Human Services welcomes the proposed residential village being developed by Vanguard, Inc. The City has been a leader in the creation of a wide array of residential services for adults with intellectual disabilities, most noteworthy being homes that serve the medically fragile," said Jay Lazier, PhD, Director of the Developmental Services Division of Department of Human Services for the City of Virginia Beach. "However, publicly funded programs are insufficient to address the growing need for residential, day support and residential services, especially services for adults with mild disabilities. A private pay alternative such as Vanguard will add value to our service delivery system in Virginia Beach and will meet the needs of many families. Its unique services will generate revenue that will enhance Virginia Beach's economy, and will provide opportunities for collaboration with public sector programs."
"The Vanguard Landing community is a model example of public-private synergy at its best," stated City of Virginia Beach Councilman Bill Desteph. "By working together with the City of Virginia Beach, Vanguard Landing will address a critical need for our intellectually disabled residents—housing, employment opportunities, and quality of life--at a level neither they, nor the City, could accomplish independently. It's the definition of a win-win partnership."
Vanguard Landing also plans to partner with the military to launch a veteran mentorship program, offering U.S. military veterans the opportunity to partner with staff and residents in vocational and social activities. "We're honored to have the opportunity to give back to those who serve all of us through their military service," said Councilman DeSteph. "
Incorporated in 2011, Vanguard Landing is a Virginia-based 501(c)3 non-profit organization, and is currently conducting both a $6.1 million capital funding campaign and a $350,000 multi-year general operating funding campaign to build and launch phase one of its residential community. "There are definite challenges to conducting both campaigns simultaneously," said Jennifer Sieracki, Director of Development and External Affairs for Vanguard Landing. "But the need is critical, and we intend to do everything we can to meet it. Similar communities in other states have succeeded in this approach. We hope that Virginia Beach will join us in our mission to make life better for our family and friends in this population."
###