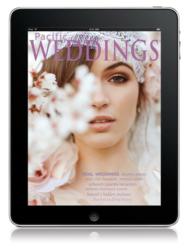 Hawaii (PRWEB) October 04, 2012
Planning a stylish destination wedding just got easier. Pacific WEDDINGS®, the nation's leading regional bridal magazine, is proud to announce an interactive digital edition to their growing brand. The online initiative means instant gratification for everyone involved in the wedding: brides, coordinators, parents and vendors. Brides from around the world anxiously await each new issue, filled with fabulous ideas and real weddings, and now the online subscription makes it even easier to share ideas and collect inspiration.
The evolution in the magazine industry from print to electronic-based delivery is an exciting solution to audience demand for more engaging and accessible information. Now brides can literally email their favorite ideas to anyone assisting them in the planning process, from their coordinator to their maid of honor and florist.
As the industry's leading brand for planning and inspiration, Pacific WEDDINGS® remains innovative and trustworthy. Editorial Director Robyn I'aea says, "Our number one goal is to provide our audience—both couples and wedding professionals—with an invaluable resource. The goal is two-fold: connecting couples with the finest vendors in the industry while inspiring our readers with editorial that is contemporary, yet classic. The digital edition is a fabulous tool combined with the power of print." The iPad's functionality to enhance the viewing experience far exceeds a browser-based online "magazine". The Pacific WEDDINGS iPad edition will offer gorgeous multi-image galleries, an easy-to-use interface and an exclusive look behind the scenes of a magazine.
The bi-annual publication will launch two new digital editions in 2013, with plans for dedicated issues featuring prominent ad partners. "Our readers often exclaim over the fact that we exceed their expectations with every issue. The new iPad edition will allow us to answer their requests for more issues filled with stunning photography and fresh ideas. Brides will turn to the digital pages of Pacific WEDDINGS® to plan their nuptials." Take a look inside the new Summer '12 edition available now at the iTunes store.
Founder and editorial director of Pacific Weddings®, Robyn I'aea was the first publisher to create a title dedicated to destination weddings. Having produced, authored and styled editorial stories on every conceivable wedding topic, her expertise is recognized globally.
Available for comments and interviews.
Press Inquiries:
Nicole Brown
(808) 242.6835; press(at)pacificweddings(dot)com