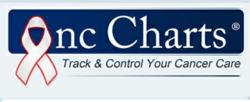 "OncCharts.com will make the perfect gift this October and beyond for those who have breast cancer." - Charles Matthews, MD
Greensboro, GA (PRWEB) October 03, 2012
This October, OncCharts.com helps everyone join in the fight against breast cancer in a way that has not been done before.
With over 200,000 new cases of breast cancer diagnosed each year and accounting for over 40,000 deaths per year, understanding the disease and appropriate treatment options is essential to maximizing one's chance for a good outcome. Because treatments for similar cases can vary between different medical institutions, patients must be able to make educated decisions about the care they receive and have peace of mind their decisions fit the expert recommended guidelines. OncCharts.com empowers them to do this.
Before OncCharts.com, no service had been able to track and summarize a patient's care, simplifying it so one could follow it step-by-step as it happened.
Moreover, no service allowed a patient to compare their care side-by-side with the National Comprehensive Cancer Network® guidelines ("NCCN"), regarded as the most reputable cancer entity in the world. The NCCN®, a not-for-profit alliance of 21 of the world's leading cancer centers, is dedicated to improving the quality and effectiveness of care provided to patients with cancer. This and more is possible, with an OncChart.
By gifting an OncCharts.com subscription for less than $20 per month, supporters can give this invaluable resource to cancer patients that need it, providing them a gift that could actually benefit them. Even supporters who do not know a patient, can get involved in the cause by purchasing a subscription gift, which OncCharts.com will automatically connect with an anonymous recipient. Not only does each subscription benefit the individual patient, but a portion of OncCharts.com revenues will also be donated to furthering cancer research. "We are very proud to be a supporter of National Breast Cancer Awareness Month," said Dr. Charles Matthews. "OncCharts.com will make the perfect gift this October and beyond for those who have breast cancer."
About OncCharts
Created by oncologists, OncCharts is a simple online tool that protects patients by enabling them to follow their cancer care as it happens with the (National Comprehensive Cancer Network® ("NCCN") guidelines for patients. OncCharts services prostate, lung, breast, and colon cancer patients. OncCharts has been profiled in the San Francisco Chronicle, Houston Chronicle, Yahoo News, among other media outlets. To purchase this invaluable gift, please visit https://www.OncCharts.com/gift.html. Join the conversation on Facebook or Twitter.