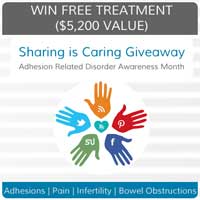 The video of stories from patients with life-threatening bowel obstruction or difficulty conceiving are inspiring and heart-warming
Gainesville, FL (PRWEB) October 02, 2012
In honor of Adhesion Related Disorder Awareness Month (September), the online community is asked to share an inspirational video of stories and testimonials about a hands-on therapy that can serve as a relatively inexpensive surgery alternative for people with adhesions. Clear Passage Physical Therapy hopes the video will bring hope to those suffering from the numerous conditions caused by adhesions, including infertility, chronic pain and bowel obstruction.
"The video of stories from patients with life-threatening bowel obstruction or difficulty conceiving are inspiring and heart-warming," said director of services Belinda Wurn, PT. "It is incredibly gratifying to offer patients a solution that can help them reclaim a pain-free life and achieve their goals, naturally."
Clear Passage physical therapists use a protocol of over 200 manual techniques, collectively called the Wurn Technique®, to treat adhesion-related conditions. The therapy has eliminated the need for drugs to mask the pain, and for invasive surgical procedures, for many patients.
Those who share the video will be automatically entered to win one of three prizes, including a free treatment program at Clear Passage, worth over $5,000. Contest participants can enter by promoting Clear Passage's "Sharing Is Caring" video on their Twitter, Facebook or Pinterest profiles. Learn more and find contest details on http://www.ClearPassage.com.
About Clear Passage Physical Therapy
Clear Passage Physical Therapy® is a network of physical therapy clinics specializing in hands-on treatment of adhesions, chronic pain and bowel obstruction, with an additional focus on women's health conditions – including infertility, pelvic and intercourse pain. Considered unique and pioneering, its work has been touted in medical journals and public media for its high success rates and ability to bypass surgery. In a recent study, the therapists opened totally blocked fallopian tubes for most patients using only their hands – a feat previously thought impossible without surgery. Expanding on those results, they have now developed a program to treat patients with recurring bowel obstruction, a life-threatening condition – without surgery.
Clear Passage was co-founded by Larry and Belinda Wurn, PT, a husband and wife therapy team. They developed their therapy, the Wurn Technique®, to help Belinda recover from debilitating adhesion pain – the results of pelvic surgery and radiation therapy. Clear Passage has grown from a tiny clinic with a focus on adhesion-related pain to a nationwide network of clinics treating chronic pain, female infertility and small bowel obstruction. The group treats patients from all over the world; approximately 20 percent of their patients are healthcare professionals.
About Clear Passage's therapy: the Wurn Technique®
The Wurn Technique® is a hands-on manual soft tissue therapy developed to treat the adhesions that cause or accompany chronic pain, endometriosis, female infertility, intercourse pain and small bowel obstruction. Designed for out-of-town patients, the therapy is generally provided in less than a week, at Clear Passage Physical Therapy® clinics in several U.S. cities. The therapy has been featured in some of the world's most prestigious medical journals.