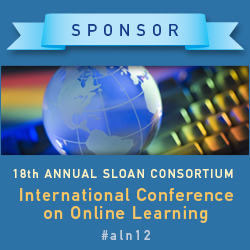 "Kryterion's rubric is enforced with our partnership with Sloan-C."
- Kryterion Director of Distance Education Andrew Caldwell
Phoenix, Arizona (PRWEB) October 02, 2012
Kryterion Incorporated will host a panel discussion at the 18th Annual Sloan Consortium International Conference on Online Learning on October 12, 2012 at 10:40am EST.
The panel will discuss how online proctoring solutions differ and how institutions can choose the correct solution for their needs. The testing software company will cover a range of detailed questions including the types of authentication and monitoring available, the use of certified online proctors and integration with various learning management systems, student adoption and more.
"Sloan-C provides the ability to view the latest pedagogical innovations and engage with industry experts," says Kryterion's Director of Distance Education Andrew Caldwell. "Kryterion's rubric is enforced with our partnership with Sloan-C."
Kryterion will also have a booth exhibit where representatives will be showcasing the latest technologies the company has developed. The conference theme At a Crossroad: Online Education in a Complex World addresses the changing landscape of online education and is an ideal meeting space for early adopters in the industry. Sloan-C will be hosted at the Walt Disney World Swan and Dolphin Resort in Lake Buena Vista, Florida.
Virtual attendance is available on the conference website for those unable to travel to Florida. Details for virtual attendance can be found on the Sloan-C conference page.
ABOUT KRYTERION
Kryterion provides secure testing solutions for the association, technology and education markets. Our solutions include: online proctoring, authentication, exam management, security, real-time test delivery and development and psychometric services.
Follow Kryterion on Twitter, LinkedIn or Facebook