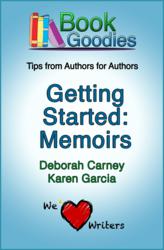 There are so many great nuggets of information contained in these recorded interviews that we need to get out and into books for authors to learn from.
NYC, NY (PRWEB) October 04, 2012
Our mission at BookGoodies.com is to present information for authors to be able to make wise choices in their writing and publishing journey and give all authors a chance to be discovered, reviewed and read.
Education is key, our podcasts are here for authors and others to share their methods, ideas, writing tips, marketing tips and working tips.
BookGoodies has over 140 hours of interviews recorded with authors, publishers and other service providers for authors and aspiring writers, with many more to come. This is a wealth of information that we would like to transcribe and shape into books of advice for authors and writers about everything from writing techniques to choosing the right way to publish to marketing and everything in between.
Our interviews are discussions with people about a topic they are passionate about and every interview reveals something new and exciting. We are always looking for new guests to share their views on writing and the publishing industry and submit their books for inclusion on our site.
We are creating books that will contain information from this vast wealth of material that will be able to help writers around the world hone their craft. The books are short and to the point, and inexpensive to make them more accessible to a wide range of writers and aspiring writers. You can help in that process by sponsoring a book.
About BookGoodies:
BookGoodies.com is a website that allows all authors, especially Indie published, to get the word out about their books. We help connect authors and services in addition to providing a platform for authors to post information about their books, their free promotions they are running and have recorded podcasts (radio type interviews) where authors to talk about their writing and their craft.