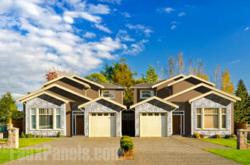 River rock beauty, easy to install
Deer Park, NY (PRWEB) October 11, 2012
Faux Panels introduces a new style for Novi interlocking siding panels. River Rock Plus looks and feels like genuine stone but can be installed by both DIYers and contractors.
"Genuine river rock is stone that's tumbled and smoothed from long-term exposure to a rushing river. Our Novi River Rock Plus has that same great look and texture without the heavy weight or the need to hire a stone mason to install it. Its interlocking panels are easy to handle," said Steve Barron, president of Faux Panels.
For quick curb appeal and an easy, attractive exterior renovation, Novi River Rock Plus is a great option. DIYers love the interlocking panels because they're so simple to install. For those who prefer to hire a contractor, these manufactured stone siding panels speed up installation while assuring consistent results. Customers love the lower labor costs combined with great-looking results.
River Rock Plus is made of strong polypropylene, so it won't chip or erode like regular stone can. It has nearly zero UV degradation, ensuring its gorgeous appearance for many years, plus it won't attract pests like termites. Extreme weather, ice, harsh temperatures – it'll hold up beautifully.
While primarily used to perk up an exterior, Novi River Rock Plus siding panels can also be used indoors, depending upon the building codes in your area. No matter how you use them, their low maintenance beauty will be an asset for years to come.
Novi manufactured stone siding panels come in three colors that fit a variety of styles. Smoke White brightens an area. Misty Beige is a warm tan shade and Shadow Gray is a cool neutral so no matter what color scheme you use, one of them will work perfectly.
"The beauty of river rock with the ease of interlocking panels makes Novi manufactured stone siding panels practically a no-brainer for exterior renovations," said Barron.
FauxPanels.com is an industry leader due to wealth of installation guides for DIYers and the best selection of the realistic faux brick, stone and wood panels and columns on the market. Its products have been regularly featured on television shows such as "Celebrity Apprentice" and numerous appearances on "Extreme Makeover: Home Edition." FauxPanels.com is a subsidiary of Barron Designs Inc., a family-owned home improvement business operating since 1972. For more information, visit FauxPanels.com.