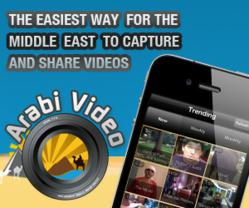 Share your videos online!!
Karachi (PRWEB) October 12, 2012
Ozzit Creations Inc. Has launched ArabiVideo for iPhone and this free application is now available on the Apple App Store worldwide. ArabiVideo is the first and only online video capturing and sharing application that is available in both English and Arabic. This feature will allow users that are not comfortable with English to still take advantage of the application using the Arabic option.
ArabiVideo will allow users to capture and upload videos using unique and fun filters and instantly share them with friends, family and colleagues. Online social integration also allows for these videos to be shared on social networking websites such as Facebook and Twitter in a very easy-to-use fashion. Users are able to upload an unlimited amount of videos, and not only are they just able to share these videos with their friends and family, but the world. Users can also view the latest trending videos on their iPhones while on the go.
Ozair Bokhari, Chief Executive Officer at Ozzit Creations, explained, "What excites us the most is the community aspect of ArabiVideo. We have developed this app keeping the Middle East in mind, by keeping their language, culture and current affairs at the forefronts of every stage of production, and are looking forward to ArabiVideo becoming a symbol of how the Middle East captures and shares video."
About Ozzit: Ozzit Creations is an international software development company with a particular focus on developing multidimensional web and mobile based innovations. Their portfolio includes web development, smart phone application development, game development and project designing.