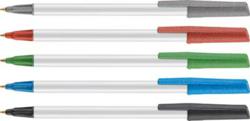 ... majority of promotional products can all be made from recycled materials.
Aldershot, Hampshire (PRWEB UK) 5 October 2012
Owner and Managing Director Neil Cleere said, "These new pens are going to revolutionise the eco-friendly promotional pen industry. More and more customers are insisting on recycled products for their advertising campaigns and we are proud to be able to offer the world's first truly recycled ball pen."
Ecoallene, the material used in production of the Envirostick Ball Pen, is derived from the recycling of Tetra Pak cartons
The Pen Warehouse is a Trade only supplier and has been in the promotional pens and gifts business for over a decade, supplying printed pens and desktop items for businesses throughout the UK and Europe through a chain of distributors. The demand for eco-friendly products is rapidly expanding and this major pen and promotional gifts supplier is leading the field in promotional products made from recycled and biodegradable materials. For more information visit our website.
It is a total misconception that eco-friendly promotional pens and gifts are more expensive. A large majority of items are the same price as their counterparts. As recycling has become more and more popular, the prices have dropped dramatically so there really is no good reason for not choosing recycled and biodegradable products for marketing campaigns. Companies eco-friendly credibility is also recognised and applauded by the recipients so it is a win win situation. It is vital for the environment to reduce the massive amounts of waste in landfills by recycling and reusing materials whenever possible.
Companies like the Pen Warehouse should be commended for their efforts in increasing awareness and reinforcing the importance of recycling.