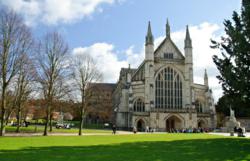 A rising number of company registrations and a falling number of company closures can only be good news for the area.
UK (PRWEB UK) 3 October 2012
Winchester: According to figures in the Duport Business Confidence Report, net company growth has risen during the first six months of the year in Winchester. The company register has increased by 157 between January and June, representing a 7.5% rise on the same period last year.
The report contains further good news for Winchester, with a slight drop in company closures. 144 companies were closed during the first half of the year, compared to 158 during the same period in 2011. This data mirrors company dissolution data for the UK as a whole.
Winchester is widely regarded as one of the most prestigious and desirable places to live in the UK. However, that does not mean it has been unaffected by the recession. The Duport report shows a sharp dip in new company formations and a rise in company closures in the first half of 2009, when economic conditions were at their worst.
Since 2009, company registrations in Winchester have, on the whole, been rising. This could be due to the economic development schemes that have been put in place by the local council. Apprenticeship grants are now available, and a Micro-Business Development Grant Pilot Scheme has been launched to provide one-off payments to support new business ventures.
Managing Director of Duport.co.uk, Peter Valaitis said:
"Winchester may have a history of wealth and prosperity, but the dip in company formations in 2009 shows it hasn't escaped the effects of the recession.
"However, our latest report shows a return to better conditions - a rising number of company registrations and a falling number of company closures can only be good news for the area."
With plenty of positive economic news for Winchester, and support available for business start-ups, it's hardly surprising that a rising number of new companies are choosing to locate there.
Duport Business Confidence Reports are generated and released by Duport Associates Ltd. The data contained in these reports is assimilated and analysed by Duport using public record data from sources including Companies House, Office for National Statistics and Ordnance Survey. Duport Associates Ltd is a leading UK company formation agent, established in 1997 and registering around 10,000 new companies each year through its Companies House approved software.