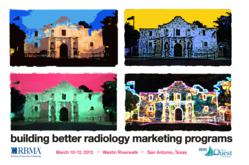 The RBMA Marketing Conference is a wonderful event and a great way to get radiology salespeople together at one time to network, share ideas and ultimately find the most creative ways to grow their practices.
Fairfax, VA (PRWEB) October 29, 2012
The Radiology Business Management Association (RBMA) is pleased to announce the 2013 dates for two of its most successful and popular seminars.
The Coding Academy Course will be held Jan. 24-25, 2013 at the Radisson Hotel Reagan National Airport in Arlington, Va. In an all-new format, the Coding Academy Course will be held over two days.
The course will begin with an overview of newly released codes for 2013, coding and reimbursement information for both hospital-based and free standing practices and coding instructions for a variety of modalities.
The second day of the program will feature presentations from Diane Hayek, Director of Economics & Health Policy with the American College of Radiology (ACR), who will provide an overview of the ACR's current and planned coding related initiatives. The day will continue with a session on the ins and outs of interventional radiology coding rules and conclude with a full afternoon workshop of case studies.
Building Better Radiology Marketing Programs will be held March 10-12, 2013 at the Westin Riverwalk in San Antonio, Texas. Registrants will discover how to distinguish their radiology business from the rest, create a unique story and develop a rich and successful marketing program.
In addition, the 8th annual presentation of the RBMA Quest Awards will take place on March 11, 2012.
The Quest Awards is a program recognizing those who have excelled in their marketing programs. Entries will be judged by experts in the field. Submissions for 2013 entries will be accepted beginning Jan. 1, 2013.
Details on both seminars will be posted at http://www.rbma.org.
The Radiology Business Management Association (RBMA) is a not-for-profit professional organization serving individuals whose primary business involves radiology. Established in 1968, RBMA serves as a trusted community that connects members nationwide, provides valuable information and education, and develops and offers practice-related resources for nearly 2,400 members.