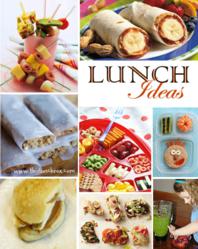 Even the most challenged lunch packing Mom will be inspired by these ideas.
Dallas, Texas (PRWEB) October 01, 2012
Fun ideas for lunch has never been that exciting. The most creative Moms have blogged about their kids-approved and most innovative food creations ever. Kids Activities Blog takes school lunches to a higher level with this endless list of fun ideas for food that have even the most pickiest eaters ask for more food.
Fun ideas for food at school can be as simple as adding fun notes to your ordinary lunches. Notes that include jokes, riddles, games or even inspirational notes for kids. Moms have created drawings on lunch bags or even games for the kids during lunch break.
Yet, taking the lunch idea even further has Moms come up with lunch themes such as Circle, Letter, or Color Lunch where the packed food matches the lunch theme. Circles of bagels or round tortilla chips, cheese cubes, oranges and carrots for orange lunch day, or pizza, pretzels and pudding for the P-Lunch day are among the many ideas.
One of the most innovative blogs comes from a Mom who's kids are asking everyday what to have for lunch. Her fun food ideas are easy to make yet so culinary inspired creations that even Mommy's mouth is watering during lunchtime. Making skewer sandwiches, banana or even banana split burritos, creamcheese pancake sandwiches with fruits or veggies, or even vegetable smoothies to spice up the lunch break. Fun ideas are endless and Moms have replied in numbers about their own favorite lunch creations.
Kids Activities Blog has taken the boring out of the daily lunch routine. After reading the endless list of fun ideas for food for kids even the most challenged lunch packing Mom will have been inspired. Change the lunch routine for kids.