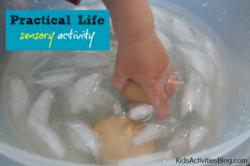 Involving kids in daily routine activities stimulates sensory learning.
Dallas, Texas (PRWEB) October 02, 2012
Involving pre-schoolers in practical life activities offer great rewards according to Kids Activities Blog. The best kids crafts and activities are spontaneous and sometimes involve practical life activities which foster sensory development, fine motor skills as well as increase concentration in early childhood development.
Kids Activities Blog features one Moms' idea on how to involve her curious little boy by helping to make hard boiled eggs. By breaking down the process of making the eggs step-by-step, and by involving her toddler, this Mom reveals how her curious little one is using his sensory awareness, his fine motor skills and his concentration skills to discover these newly discovered hard boiled eggs.
This practical life activitiy is so simple yet it provides compelling results. This Moms example has created lots of bloggs on Kids Activities Blog about how to use practical life examples to foster early childhood development.
Other practical kids activities as suggested by Moms on Kids Activities Blog includes arranging a bouquet of flowers. This activity is simple, inexpensive and uses real life objects. Benefits for this practical life kids activity are fostering fine motor development, concentration, and self regulation. Within the Practical Life Development in the Montessori curriculum "Care of the Environment" this simple activity of picking and arranging flowers by children has direct and indirect impacts for the Early Childhood development.
Kids Activities Blog features inexpensive and simple suggestions on how to involve pre-school children in practical life and reveals how these spontaneous daily activities can have a positive impact on early childhood development. Come check it out by getting the pre-schoolers involved in daily activities.