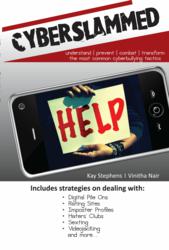 "A truly unique resource."
-Anne Collier, Founder and Editor of Net Family News.org and author of Parents Guide To Facebook
Rockland, ME (PRWEB) October 01, 2012
With the help of Time Warner Cable, two New England authors have published a new cyberbullying book for parents and educators coinciding with October's Anti-Bullying Awareness Month.
Cyberslammed™: Understand, Prevent, Combat And Transform The Most Common Cyberbullying Tactics (sMashup Press, 2012) provides practical strategies to take control of six of the most harmful cyberbullying tactics that teenagers face today in 5th to 12th grade.
Authors Kay Stephens and Vinitha Nair spent five years researching the book, drawing upon the advice of some of the most highly respected experts and practitioners in cyberbullying, including Anne Collier, Stan Davis, and Nancy Willard, in addition to law enforcement, attorneys and even a martial arts expert. Cyberslammed can be used in classrooms as a teaching tool as well as at home as a reference when cyberbullying issues crop up. The authors created helpful "steps" (understand, prevent, combat, transform) to organize and present each tactic in a way that is easy for the reader to understand and follow.
"Like many adults, we were watching what kids were going through as the result of cyberbullying," said Stephens, "but we had no terms to define what it was or how it started. In order to get control of an increasingly uncontrollable issue like cyberbullying, you've got to pinpoint certain behaviors behind the technology, before you can develop effective strategies to combat it."
Cyberslammed™ takes a sharply focused look at six of the most common types of digital harassment through the use of the Internet, cell phones and video cameras. Many people have already heard of Sexting, which is one of the tactics in the book. Other tactics include a "Digital Pile On" (ganging up on one person on chat forums or instant messaging); "Videojacking" (videotaping someone without his or her knowledge or approval and uploading it to a video-sharing site); and a "Haters' Club" (spreading mob mentality on websites or social networking sites to persecute one person).
The book has received endorsements from national experts in bullying/cyberbullying, including Dr. Jenny Walker, President of Cyberbullying Consulting Ltd, who calls it "a practical workbook that can be used by parents and educators in partnership with young people (middle and high school students) to discuss and work through realistic scenarios" and Jamie Nabozny, subject of the documentary, Bullied: A Student, a School and a Case That Made History, who says: "This book should be required for every middle and high school student. It's comprehensive, easy to understand, and gives students the tools they need to live safely in today's digital world."
Time Warner Cable supported the book as part of the company's Connect a Million Minds philanthropic initiative to improve opportunities for youth in science, technology, engineering and mathematics (STEM). Time Warner Cable is Maine's largest provider of cable TV, broadband and digital phone services. More information is available at http://www.connectamillionminds.com.
For more information, visit the Cyberslammed website to learn about how to stop cyberbullying or see its Amazon reviews.