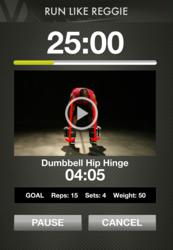 Fitness enthusiasts, football fans and athletes are going to love this app," said Bush. "I wanted my fans to get an accurate look at how I train throughout the year.
Raleigh, NC (PRWEB) October 02, 2012
RALEIGH, N.C. – Vstrator, an online/mobile video analysis platform, announced an exclusive partnership with Miami Dolphins running back, Reggie Bush. Vstrator has worked with Bush to create a new workout app that allows fans to train like the NFL star.
The Reggie Bush Workouts app, powered by Vstrator, allows fans to watch videos of Bush's extensive workout routine, along with getting detailed instruction on proper technique and motivation from Reggie himself. Fans can then record – or "Vstrate" – themselves performing exercises that they can compare with Bush's to ensure they're being done correctly, as well as create custom workouts using the Vstrator workout engine. This analysis can be done through the app, or on the Vstrator.com website.
The Reggie Bush Workouts app can be purchased at the iTunes App Store.
"We're thrilled to work with Reggie Bush on an app that fitness and football fans will instantly gravitate to," said Vstrator's President & Founder, Rob Autry. "Reggie is passionate about physical fitness and is a perfect partner for this project. Users will get an exclusive look at just what it takes to train like a world-class athlete."
This is a first-of-its-kind partnership for Bush, who chose to work with Vstrator because of the company's cutting-edge approach to sports video analysis. The Reggie Bush Workouts app will allow users to highlight techniques via drawing tools, record insights with audio recording, and share results with other users in the Vstrator community.
"Vstrator has developed a great app that fitness enthusiasts, football fans and athletes are going to love," said Bush. "I wanted my fans to get an accurate look at how I train throughout the year, and Vstrator's innovative video analysis allows fans to workout just like me."
About Vstrator
Vstrator is a video analysis tool company that is committed to enhancing coachable moments through capturing, creating, sharing and interacting with video. Vstrator is working with other world class athletes such as Bush to bring similar performance enhancing technology to the sporting world. For more information on Vstrator, visit http://www.Vstrator.com.
About Reggie Bush
Reggie Bush is currently a member of the Miami Dolphins. He joined the Dolphins prior to the 2011 NFL season after spending 5 seasons with the New Orleans Saints. The Saints drafted Bush in 2006 with the 2nd overall pick in the NFL draft. Bush was a key member of the Saints team that won Super Bowl XLIV. You can follow Reggie on twitter @Reggie_Bush and Facebook at http://www.facebook.com/ReggieBush. Bush is exclusively represented for marketing by The Legacy-Agency in New York (http://www.legacy-agency).