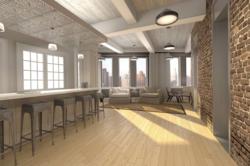 Work..Network..Cowork
New York, NY (PRWEB) October 17, 2012
Select Office Suites has recently added a diverse group of office solutions to help accommodate larger companies looking for space in the Chelsea and Flatiron areas of New York City.
As a long time provider of furnished and flexible office space in New York City, Select Office Suites has been providing office space for groups of 1-100 people for over 10 years.
In an effort to better accommodate larger companies seeking swing space or temporary office space, Select has added over a dozen additional team rooms and bull pen offices.
Swing space is ideal for firms who may have a lapse in their office space needs or who are undergoing a renovation or new build out. Swing space options assist companies in bridging the gap while they move out of one space and into another space that may not be quite ready. These options are flexible and can be rented for a day, a week, a month, a year or more!
Select Office Suites has been home to a very diverse group of clients including media, digital, legal, finance, internet startups, creative firms, and many more. They provide an ideal option for any size group ranging from 1-100 employees or even more. The locations are fully equipped with furniture, hi-speed internet, phone, conference rooms, and even on-site cafe's and lounge spaces. Please visit http://www.selectofficesuites.com for availabilities and more information.