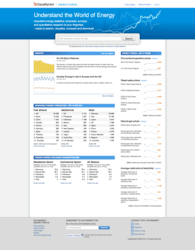 DataMarket Energy offers a single interface for searching millions of time series of public energy data, and visualizing and sharing your results in a few clicks
Reykjavik, Iceland and Cambridge, Massachusetts (PRWEB) October 01, 2012
DataMarket unveils its new energy data service, energy.datamarket.com, at the Energy Datapalooza being held today at the White House in Washington, DC.
The event, to be hosted by the White House Office of Science and Technology Policy, White House Council on Environmental Quality, the U.S. Department of Energy, and the U.S. Environmental Protection Agency, showcases innovative products, services and apps aimed at unlocking the value of open energy data to help meet the country's energy challenges. DataMarket Energy provides subscribers with a single intuitive interface for finding and understanding data across a wide range of US and global public-domain energy data. DataMarket CEO Hjalmar Gislason will demonstrate the service at the event, scheduled to begin at 8:30am EDT and which will be streamed live on whitehouse.gov/live. The DataMarket presentation will subsequently be archived on energy.datamarket.com.
"We are honored to have been invited to take part in this fantastic initiative. At DataMarket we focus on doing one thing well: aggregating vast amounts of heterogeneous data to help business users with their planning and decision-making. Our new energy portal applies this know-how to the US government's energy data, for the first time enabling these valuable resources to be searched, visualized and shared through one gateway and in combination with other domestic and worldwide open data sources," said Hjalmar Gislason, founder and CEO of DataMarket.
DataMarket Energy launches with almost 10 thousand data sets, holding 2 million time series and millions of survey responses from thirteen major data providers including the DOE's Energy Information Agency, Oak Ridge National Laboratory, Energy Efficiency and Renewable Energy program, and National Renewable Energy Laboratory, as well as the EPA, Bureau of Transportation Statistics, the World Bank and UN. Subscribers can search all of these datasets, and get results back in customized charts and tables that can then be shared, published and embedded as live, interactive content.
For further information, visit energy.datamarket.com.
To request a demo, contact Josh Boyle, sales director, josh(at)datamarket(dot)com, (617) 444-8745
Media contact: Edward Farmer, communications director, edward(at)datamarket(dot)com, +354 863 1923.
About DataMarket
DataMarket helps business users find and understand data, and data providers efficiently publish their data and reach new audiences. At the heart of all DataMarket solutions is a unique competence in making complex and diverse data easy to search, visualize, compare and share – in a single place, in a standard, unified manner. DataMarket is a private company with product development based in Reykjavik and a sales office in Cambridge, Massachusetts.