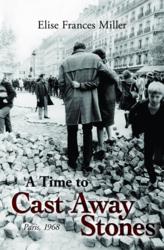 "I want to set the record straight."
San Mateo, CA (PRWEB) October 08, 2012
Miller's version of the late 60s crushes the rampant media stereotyping that has found it profitable to dwell on the relatively small number of social and political radicals. Sexuality, drugs and violence sold more papers than exposing most college students' day-to-day perseverance and sense of responsibility.
According to Miller, "There has never been a novel that tells the story of that era from the point of view of an eighteen-year-old who loves her family, is shy and insecure, and whose world centers around making good grades and hanging on to her boyfriend. But these were the people I knew at Berkeley in the late 1960s. Were we spoiled? I don't think so and I want to set the record straight."
And yet Miller's novel, A Time to Cast Away Stones turns out to be an incredibly stimulating story, and much more satisfying than painting the era in psychedelic colors. We get to know Janet Magill and her childhood sweetheart, Aaron Becker, as if they were kids on our own block. Janet's brother is drafted and she worries that Aaron may be next. She decides to protest the war, despite her extreme discomfort in doing so. When her parents find out (no spoilers here), they yank her out of Berkeley and send her to Paris, never suspecting that the mythic city is about to erupt into the only true revolution a Western, capitalist democracy has ever experienced. This is the little-known but historically significant 1968 Paris May Revolution. Along the way, Janet falls in love with a secretive Czech dissident. This adds another dimension to Janet's political and social education, and complicates her hope that Aaron will evade the draft and join her in Paris.
Miller believes that her novel reveals what actually was different about her generation. "We blew the conversation wide open!" she claims. "We made people leave their comfort zone."
From California to France, nobody had ever spoken so freely and so openly about so many forbidden subjects before. "In that new, open discussion, some saw arrogance and self-centeredness," Miller said. "But I'm proud of opening myself up to creative music, art, fashion, books, and solutions to difficult problems. And of finding language for new values. I argued passionately with my parents," Miller reveals, "who voted for Goldwater in 1964 while I walked precincts for the Young Democrats. They would never have had those conversations with their parents."