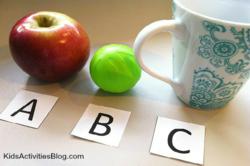 Matching games are easy to set up at home and are a great way to foster pre-reading learning.
Dallas, TX (PRWEB) October 04, 2012
Matching games are great pre-reading activities according to Kids Activities Blog this fall. These matching game ideas are easy to do at home.
Kids Activities Blog features a list of games for toddlers and pre-schoolers. One of them requires printing out letters of the alphabet at home. Cut them out and put them in order. Depending on the letter recognition level of your child, help them or let them do by themselves an item hunt inside the home. Find matching items according to the beginning or ending letter of the word. Several variations of the game are suggested on Kids Activities Blog.
This easy activity and other matching games are great pre-reading activities for toddlers and pre-schoolers at home. They foster Early Childhood letter recognition even before sounds are learned. In addition, independent learning is promoted.
Color games are also great games during Early Childhood Development. Make up a mystery bag of blocks or cards with different colors. Let the child draw a color from the bag and then let him or her go on a color hunt. It is fun to see how many different items and shades of this color exists at home.
Another simple pre-reading activity for toddlers or pre-schoolers to draw attention to letters and their attributes is a refrigerator letter game. This perfect independent pre-reading game can be done while one cooks dinner. Write the alphabet on a sheet of paper and put up on the refrigerator. Using magnet letters, let the child match the letters.
Kids Activities Blog features various matching games and pre-reading activities that promote Early Childhood development. Come check it out.