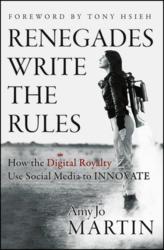 "Twitter is the greatest marketing tool in the history of the world and Renegades Write the Rules demonstrates how we're only limited by our imaginations when it comes to social media." —Dana White (@DanaWhite), president of UFC
San Francisco, CA (PRWEB) October 02, 2012
With more than one billion users on Facebook and Twitter alone, social media has evolved from much more than just a marketing tactic; it's transformed into one of the most effective communication tools available. Many books teach the mechanics of using Facebook, Twitter, and YouTube to compete in business. But few reveal the sometimes counterintuitive rules of creating true worth that is unique to the social space—you must continually deliver value when, where, and how people want to receive it.
In Renegades Write the Rules: How the Digital Royalty Use Social Media to Innovate (Wiley; $26.95; October 2012, 978-1-118-34051-6) author Amy Jo Martin, founder and CEO of social media agency, Digital Royalty and Digital Royalty University, reveals the innovative strategies behind the social media success of today's top celebrities and brands, and how to follow their lead in sometimes unconventional ways. This book details the latest techniques to attract a social media fan base and to keep it engaged through a strong and entertaining online presence. In order to achieve this, she argues, you must challenge previous assumptions and instead, embrace your own inner renegade.
Renegades Write the Rules is filled with behind-the-scenes success stories from noteworthy celebrities such as Shaquille O'Neal, Dwayne "The Rock" Johnson, and Dana White, as well as iconic brands including, FOX Sports, and DoubleTree by Hilton. The book illustrates how individuals and companies have amplified their following exponentially and monetized their brands beyond what they could have accomplished with traditional marketing.
Named one of Forbes' five Most Powerful Women on Twitter, Martin, who herself has over 1.2 million Twitter followers, was one of the first to pioneer how professional sports can integrate social media, and even planned the first-ever professional sports TweetUp with Shaquille O'Neal. Examining how to build a faithful following and beat the competition clamoring for people's attention by continually delivering value, Martin reveals one of the basic rules of digital media success that many don't realize: humans connect with humans, not logos and creative taglines.
By bucking previous assumptions and embracing their inner renegade, Martin shows how anyone can build a loyal and lucrative digital influence, step by step, with the eight essential Renegade Rules:
Rule 1: Be the Media
Rule 2: Show Some Skin
Rule 3: Unmask Your Motives
Rule 4: Get Comfortable Being Uncomfortable
Rule 5: Ask Forgiveness Rather Than Permission
Rule 6: Consensus Is the True Authority
Rule 7: There's a New ROI in Town
Rule 8: The Act of Good Can Be Scaled
In early 2011, Martin and Digital Royalty launched an education division called, Digital Royalty University, which specializes in developing customized social media, culture and personal/business innovation curriculum for brands including FOX Sports, SELF Magazine and DoubleTree by Hilton, among others. On October 2, Digital Royalty University is launching a new automated e-learning platform that will allow corporate brands, small businesses and individuals access to a variety of curriculum including the course, 'The Eight Royal Rules of Social Media'. With this launch, Digital Royalty University is introducing their new Buy One – Give One program. For every Digital Royalty University class a student purchases, one hour of education will be donated to teachers in an effort to bridge the gap between students, parents and teachers through social media.
Conveyed in an experienced and accessible tone, Amy Jo Martin addresses tips on how
to adjust to the new social media wave and ride it all the way to success. Renegades Write the Rules is an ideal resource for leaders and executives, marketing and publicity professionals, and anyone looking to build their personal brand.
About the Author:
Amy Jo Martin is founder and CEO of the social media agency, Digital Royalty and Digital Royalty University. She's the former director of digital media and research for the NBA's Phoenix Suns. She pioneered how professional sports integrate social media and planned the first-ever professional sports Tweet Up with Shaquille O'Neal. Martin was named one of Forbes' Best-Branded Women on Twitter with nearly 1.2 million devoted followers (@AmyJoMartin). She is a regular contributor to the Harvard Business Review, and you can visit her Web site at http://www.amyjomartin.com.
About Wiley
Founded in 1807, John Wiley & Sons, Inc. has been a valued source of information and understanding for 200 years, helping people around the world meet their needs and fulfill their aspirations. Wiley's core businesses include scientific, technical, and medical journals; encyclopedias, books, and online products and services; professional and consumer books and subscription services; and educational materials for undergraduate and graduate students and lifelong learners. Wiley's global headquarters are located in Hoboken, New Jersey with operations in the U.S., Europe, Asia, Canada, and Australia. http://www.wiley.com.