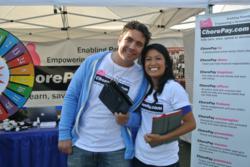 We're trying to teach our young members by example: find a charity that you care for deeply and do all that you can to help
Seattle, WA (PRWEB) October 02, 2012
ChorePay, a free online tool providing unique and customizable chore management for families, helped to sponsor the Seattle Humane Society's Walk for the Animals held Sunday, September 23.
With a company emphasis on financial education for kids and an ethos of participating in local and national charity events, ChorePay was onsite to cheer on walk participants and to spread the word of ChorePay offerings.
The ChorePay booth featured giveaways, information about the service, and a chance for event attendees to spin a "Wheel of Fortune" for an opportunity to earn cash when signing up for a free ChorePay account onsite. Any new member was credited the winning dollar amount to their account by ChorePay. Through a standing partnership between ChorePay and the Seattle Humane Society, these new members also had the opportunity to donate these winnings directly to the Society.
"As an avid dog-lover and owner of multiple rescue dogs, this event hits home for me and we're extremely proud and honored to be a sponsor. We're trying to teach our young members by example: find a charity that you care for deeply and do all that you can to help," remarked Diane Gaddis, ChorePay CMO.
"Of course our partnering charities don't stop here. We've teamed up with Treehouse, the Make-a-Wish Foundation, the Boys & Girls Clubs of America, Helen Keller International, the Breast Cancer Research Foundation, and many more. We're determined to teach by doing. Set the example for the youngsters and teens who are a part of the ChorePay community," Gaddis continued.
The Walk for the Animals was part of Seattle's University Village Fido Fest. Through sponsorships and donations to those participating in the walk, over $130,000 was raised for the Seattle Humane Society.
Charities and non-profits interested in partnering with ChorePay are encouraged to contact them directly at pr(at)chorepay(dot)com.
About ChorePay
ChorePay provides a free online tool for parents to organize and centralize their children's chores. Beyond run-of-the-mill online chore charts and allowance tracking, this includes complete money management for the child with goals of education about saving, spending, and donating their earnings.
Founded in 2011, ChorePay is a small team of parents whose goal is to engage families and make the whole chore process not so much of a…well, chore. They believe it should be fun. Very fun.