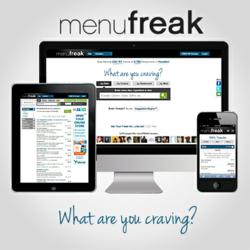 menuFREAK is the Google for food....instantly find anything you are craving!
Houston, Texas (PRWEB) October 02, 2012
menuFREAK.com is a hot new start-up in the sizzling foodie space that is gaining momentum in key markets. Think of it as the "Google for food," connecting users with just about every detail on a restaurant and its full menu.
Craving "fried ice cream" in San Francisco? How about "crab cakes" in Boston or "braised short ribs" in Houston? With just a click, menuFREAK users get instant detailed results on restaurants serving these menu items or any dish they are craving.
menuFREAK prompts users to answer a simple question: "What Are You Craving?" Whether it's a specific dish, cuisine, or even a meal like "breakfast", just answer the question and menuFREAK's search engine scours virtually all the nearby menus instantly. Diners are impressed and astounded by the quick, detailed results menuFREAK delivers on desktops, tablets and of course the critical mobile platform.
When asked about the new company, Selin Varughese, one of the founders of menuFREAK says, "Gone are the days of searches just showing a list of restaurants serving Italian food. People want a deeper search with more sophistication and they want results quickly. For example, with menuFREAK, a user can search for restaurants serving "chicken marsala" priced from $10 to $20 at Italian restaurants within a 5 mile radius of their zip code." Now that is a powerful search!
The menuFREAK platform offers a refreshingly simple and easy to use interface, but under that simplicity lays an unprecedented power to search for food in ways that have never before existed. In fact, once users begin to explore the search features, the site's power really starts to shine. For example, parents with hungry kids can search "By Meal" to view just the children's menu options across hundreds of restaurants in seconds.
While menuFREAK represents a massive improvement to how we search for dishes and restaurants, the team at menuFREAK soon realized the search platform was also being used as a very effective (and addictive) discovery tool as well. As Mr. Varughese points out, "diners may use it to search for the nearest place serving "grilled salmon" and in the process discover hundreds of variations of "grilled salmon" menu items and at restaurants that previously may never have come to their attention. It works out great for both users and restaurants."
Not surprisingly, the buzz about menuFREAK is spreading fast and restaurant owners are taking notice. Mazen Baltagi, owner of Mi Luna restaurant in Houston says, "menuFREAK is putting my restaurant menu in front of lots of people who normally would not be looking for it. In just the past week, two diners mentioned they are here because of a dish search on menuFREAK." In the restaurant business a constant flow of new customers is vital and menuFREAK aims to help fill that gap.
Restaurants are eager to be listed with menuFREAK because every dish on their menu can easily be searched, seen and shared by thousands of local diners. The company is also in process of developing a self-service platform where restaurant owners can easily push their own offers, deals, and promotions directly to menuFREAK's fast growing, highly engaged and targeted local user base.
menuFREAK is currently live in three major metro areas: Boston, Houston and San Francisco with plans to launch in more cities soon – in the US and internationally. The company is currently in talks with several industry heavy weights about partnerships which may expedite the expansion plans.
Visit http://www.menuFREAK.com to learn more.