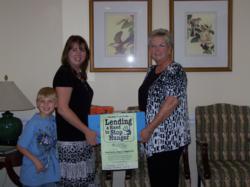 Statesville, NC (PRWEB) October 01, 2012
Carolina Farm Credit has donated over $1,500.00 and 5,175 pounds of food to local Food Banks as a result of a food drive conducted from May through August.
This food drive was in cooperation with the NC Co-Op Council's Early Harvest Food Drive, which encouraged cooperatives throughout NC to hold food drives to benefit their local food banks.
As part of the food drive, Carolina Farm Credit employees and Board members collected more than $1,090 and 300 pounds of food at their annual Employee Appreciation Day held at Jellystone Park in May. The donations were made to the Manna Food Bank of Asheville, NC.
Throughout the months of July and August, employees, members of Carolina Farm Credit, and the community made monetary or non-perishable food donations at each of the 36 service centers throughout Western NC. They collected a total of $433.00 and 4,875 pounds of food. Each service center, then made these donations to a local Food Bank, church, soup kitchen or other community group that serves the hungry in their own community.
Carolina Farm Credit is a stockholder-owned cooperative providing short, intermediate, and long-term financing to full and part-time farmers and agricultural-related businesses and also provides financing for the construction and purchase of homes in 54 counties through 36 service centers. Other financial services available are credit life insurance, crop insurance, appraisal services, leasing programs and financial planning.
Carolina Farm Credit serves over 8,900 members with loans outstanding totaling more than $1.28 billion. The association's territory covers the western half of North Carolina, with service centers located in Albemarle, Asheboro, Asheville, Boone, Burnsville, Carthage, Concord, Ellerbe, Graham, Hendersonville, Hillsborough, Jefferson, Lenoir, Lexington, Lincolnton, Marshall, Mocksville, Monroe, Murphy, Newton, Pilot Mountain, Reidsville, Roxboro, Rural Hall, Salisbury, Shelby, Siler City, Sparta, Spindale, Statesville, Taylorsville, Wadesboro, Waynesville, Wilkesboro, Yadkinville, and Yanceyville.
Directors for Carolina Farm Credit are Thomas E. Porter, Jr., Chairman, Concord; Joseph A. Lail, Vice-Chairman, Shelby; John M. Barnard, Statesville; E. Bernard Beck, Seagrove; W. Rex Bell, Statesville; Mark A. Bray, Lawsonville; Herbert R. Cheeks, Hayesville; David M. Coltrane, Pleasant Garden; Charles L. "Butch" Deal, Franklin; Bobby J. Gambill, Sparta; W. Steve Love, Graham; Bobby J. "Bud" Matthews, East Bend; R. Dwayne Myers, Elkin; Clark M. Newlin, Haw River; Tony L. Ragan, Sanford; Lewis E. Smith, Lincolnton; Vickie N. Smitherman, East Bend; L. Kim Starnes, Salisbury; Dr. Alton Thompson, High Point.