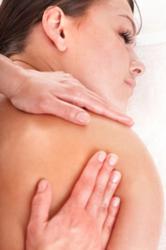 This is a great opportunity for the Long Island Community to learn more about our Day Spa, the services we provide, and the wonderful staff we have who are dedicated towards helping our clients.
Commack, New York (PRWEB) October 19, 2012
Hands On HealthCare Massage Therapy and Wellness Day Spa has announced their "Spread The Word About Our Spa" Promotion. They are pulling out all the stops in order to get people to spread the word about the massage therapy day spa. They are running a Facebook Sweepstakes, an additional Spa $500 Gift Certificate Give Away, a Spin the Wheel to Spa Game and will begin offering a $20 "Spread The Word About The Spa" Full Body Massages which they claim, is simply unbelievable. The company has created a BOGO facial treatment that actually has clients sharing an esthetician, a room and of course, the cost.
A Facebook Sweepstakes began running October 1, 2012 through December 31, 2012. The sweepstakes is for a $75.00 Gift Certificate. If a FBer invites a fellow FBer to enter and that FBer wins, the original FBer will also win. Clients can enter one time per month. Hands On believes this will certainly help spread the word amongst FB friends.
The Spa is also running an in-house GiveAway with winners taking home $500 in Gift Certificates. There are numerous ways of entering and it will also run until 12/31/12. Erika Abueg, an Office Assistant with Hands On has been an integral part of putting this promotion together. Abueg says, "We have tried to be creative and consider all different populations. We will reach out to current and new clients through social media, direct mail, email and our website. Instead of paying Google to spread the word about our spa, we are giving incentives for clients to do it."
The Spa has also created a "Spread The Word About Our Spa" Stress-Buster Massage. Marla Kaplan-Pelle, Owner and Licensed Massage Therapist states, "We've taken the best of the best massage techniques and designed a routine to melt away stress, but not the clients dollars. This full body massage will be only $20 and it is only 20 minutes. Kaplan-Pelle continues, "Combining a compact massage with our heavenly heated comfy massage table, beautiful spa music, a softly lit room and a pampering massage therapist makes this a truly wonderful experience that is certainly worth talking about! We're banking on takers to Spread the Word!"
For complete details and to learn more about The Spread The Word About Our Spa Promotion, Click Here.
Hands On HealthCare Massage Therapy and Wellness Day Spa has been serving the Commack Community since 2000. Hands On HealthCare Massage Therapy is a recognized leader in Advanced Medical Massage in Suffolk County, Long Island. Medical massage is often the answer regarding Pain, Injury and Disease. Hands On offers Pre-Natal and Post-Natal Massage, Sports Massage, Trigger Point Therapy, Myofascial Release, Manual Lymph Drainage and much more. In addition, we offer spa treatments that include facials, skincare, microdermabrasion, body treatments, permanent makeup and para-medical cosmetics. Hands On has an extensive Couples Spa Date Menu. Spa Parties are our specialty. We have an array of services and packages available for both on and off-site. Our mobile services include bringing the day spa to your doorstep at home, venue or corporate function. Common events include Bachelorette Parties, Showers, Birthdays, Bar and Bat Mitzvahs, Sweet 16 Corporate Events and functions. Hands On HealthCare Massage Therapy's Licensed Massage Therapists and Estheticians provide our clients with the ultimate experience in attention, service and care.
Hands On HealthCare Massage Therapy and Wellness Day Spa
Marla Kaplan-Pelle, Licensed Massage Therapist, Certified Lymphatic Therapist, Director
208 Commack Road, Commack, NY 11725
631.462.4263