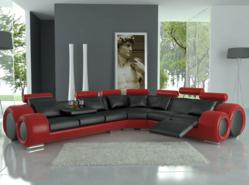 Modern Furniture by Tosh
Los Angeles, CA (PRWEB) October 01, 2012
Since its inception, DA Stores has offered Tosh Furniture to its customers. Tosh Furniture, a leading American distributor of high quality, affordable modern home furnishings, has a global presence in markets that put it in the unique position of truly tapping into global trends. With stunning designs that often redefine the trends, this diverse company continues to move forward and with DA Stores as the leading partner, both companies are now poised to bring these dynamic design company's many contemporary living room, dining room and bedroom furnishings into more homes across the nation. It's known for its beautiful focus on fine Italian leather and the attention to detail is seen in every piece that bears the Tosh Furniture logo.
Never afraid to be the "game changer" in the home furnishings sector, DA Stores has grown since its founding in 2006. Its home base remains in Los Angeles and its mission has never changed: to keep its customers as its primary responsibility with the goal of ensuring each is offered an ever-widening selection of home furnishings, including patio and pool furniture. With a talented group of buyers who are always scanning the globe for the most unique and eclectic selections, DA Store customers have come to expect anything but the usual choices found in many of today's home furnishings companies.
DA Stores continues to raise the bar with popular promotions, free shipping offers and easy financing options. Owning modern furniture has never been easier or more affordable. For now, the expansion continues as the company continues to grow a presence on every coast and throughout every American region.