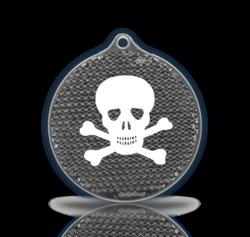 Be seen, be safe.
(PRWEB) October 03, 2012
As our kids head out to go Trick or Treating we worry about many things. One such concern is that they stay safe on the streets. Most traffic accidents happen at dusk or dark and children are especially vulnerable as they are small and hard for drivers to see. With Safees pedestrian traffic safety reflectors we can help with that. Safees increase the wearers visibility my as much as 500% and reduce the risk of accidents by up to ten times. Safees shine brightly when hit by oncoming traffics lights, giving traffic time to stop or steer clear.
Safees is happy to introduce our Halloween special Safees with a Skull and Bone design. We have many additional design on different colors. hearts, animals, snowflakes, soccer balls, cell phones etc. Safees are easily attached with a pin or spiral.
Safees are available from http://www.safees.com and from http://www.amazon.com. They cost 4.95 each. Shipping is free on all orders over USD 25.
Press images are available here: http://www.safees.com/pages/press-images
We also have an explainer video on the site's home page as as well as lots of additional information about Safees and traffic safety. Please feel free to use it as you wish.
Please let me know if you have any questions!
Best regards,
Lisa Jonsson