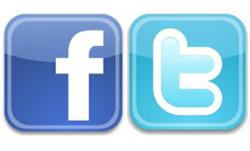 Facebook and Twiiter are great sites...but there are sites ABOUT the sites that can help you truly master them...
Austin, tX (PRWEB) October 03, 2012
Facebook and Twitter Tools
Facebook and Twitter are great sites in and of themselves, but there are sites ABOUT the sites that can help users truly master them. Below is a compilation of various sites that are relevant now and assist businesses in truly making the most of their social media in an age where it's not just a luxury, but a necessity, to be social media savvy:
Twellow.com - Essentially serve as Twitter Yellow Pages that help users find their targeted audience
TwtQpon.com - Helps create coupons for businesses and customers
TwtVite.com - Assists in the creation of events through social networks like Facebook and Twitter
ManageFlitter.com - Allows users to find out who is--and isn't--following them
Twylah.com - Useful for converting tweets for an actual website/blog feel & interface
MarketMeSuite.com -Serves as a social media dashboard
Tweriod.com - Useful for analyzing tweets, followers etc. to ensure optimal attention
TweetLevel.Edelman.com/TweetUserDetails.aspx - Measures influence
Monitter.com - Helps users find out what they want, where they want, on twitter
TweetMeMe.com - The most popular Tweets by industry or channel
TweetStats.com - User's Tweet stats and various other statistics
BufferApp.com - Helps schedule Tweets & posts with analytics
Roost.com - A compilation of scheduling, management and sources all in one place
TwitListManager.com - Assists with managing Twitter lists
http://www.StuffToTweet.com - Compiles the most popular stuff on the web and sorts it by category
AllTop.com - Presents the most popular of technology, marketing and social
PopUrls.com - Lists the most popular URL's on the web
MarketMeSuite.com - Serves as a social media dashboard, much like HootSuite
LiveFyre.com-Helps users build an engaged audience and start conversations
ConstantContact.com - Deals with email, social media, marketing, etc.
FourmuLists.com - Enables users to organize lists
TwitSprout.com - Serves as a social dashboard
FlowTown.com - Measures when posts have most impact
TwitaLyzer.com - Assists users in targeting their posts and tweets by locations
ThinkUp.com - Provides analytics tools for multiple platforms
Study Breaks College Media provides a one-stop solution for small businesses, providing them with big marketing strategies and delivering college students.
Study Breaks magazine is an award-winning line of monthly entertainment magazines for college students with a mission can best be explained through its slogan: We are college life. Published by Shweiki Media Printing Company, it is distributed in five Texas cities (Austin, Houston, San Antonio, San Marcos and Lubbock) and three southeast cities (Athens, GA; Auburn, AL; Columbia, SC). (Studybreaks.com)