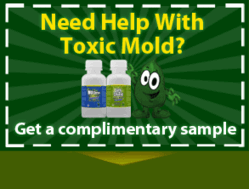 Proven safe by its first users, the sprays namely Molderizer and Safe Shield offer a health-friendly mold treatment.
New Orleans, LA (PRWEB) October 04, 2012
Mold removal cost can put a strain to anybody's home maintenance budget. It may be an expense for just a single cleaning treatment but the amount it would require could be too high. So to help homeowners and even mold contractors reduce the amount needed to clear the spores, Molderizer advised the use of its two non-toxic mold remediation products.
Try a Sample of Molderizer Non-Toxic Mold Sprays
If not prevented, mold can basically grow anywhere. Even in books and fabric pieces, it could make a home for itself. And if it is left alone for too long even after discovering its presence, it could eat up the whole item. Not to mention, it could cause a number of respiratory problems.
Moisture is the basic thing that triggers mold growth. So to prevent mold infestation, the primary thing one must do is to keep the place dry all the time. But that's nearly impossible to get done at home especially in the kitchen and the bathroom. Hence, Molderizer said that its best for every homeowner to prepare a mold removal spray.
With a solutions ready, a company representative said that one could implement an immediate mold treatment. And that prevents worse effects of mold presence in items and health thereby reducing the mold removal cost.
However, the representative added that not all mold remediation products are okay for a mold treatment. Most of today's cleaners contain harsh chemical ingredients that present risks to anybody's health. The use of them could bring in more problems than help. And so, it is imperative for consumers to carefully pick their mold sprays among the many that are now for sale.
To ensure the safety of the mold remediation product, Molderizer asserted that homeowners and mold contractors should opt for those that are non-toxic. And because its two mold remediation sprays are made with organic ingredients, the company said that they are what consumers should purchase.
Discover the Many Benefits of Molderizer and Safe Shield
Proven safe by its first users, the sprays namely Molderizer and Safe Shield offer a health-friendly mold treatment. And effective as they are, they can also eliminate the spores at the first cleaning sparing its user from long hours of scrubbing.
Additionally, because both Molderizer and Safe Shield are free of chemicals, they are gentle and can actually be used on any material. That can save a homeowner or a contractor from buying more than one mold spray.
Reduce Your Mold Removal Cost. Get Non-Toxic Mold Sprays Today with a Free Shipping