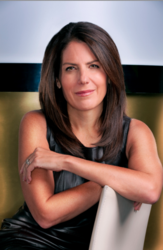 Every Girl Scout cookie season, I set a personal goal that I would sell the most boxes of cookies of any girl in my troop. Today, I continue to set big goals for myself and my business and every day," Monaco Lange founding partner Tessa Tinney said.
New York, NY (PRWEB) October 02, 2012
Notable Girl Scouts alumnae including bestselling author and finance expert Jean Chatzky will share how their Girl Scouts experience has gave them skills for success during a Thursday (Oct. 4) panel at Advertising Week.
Girl Scouts of the USA worked with Monaco Lange, a New York-based branding agency, to transform how people think about Girl Scouts' cookie program. The robust, multi-channel campaign, which will begin this month and continue through early 2013, will elevate consumers' knowledge about how the Girl Scout cookie program helps girls attain five core life skills: goal setting, people skills, decision making, money management and business ethics. After all, Girl Scouts is about way more than just cookies and camping.
Monaco Lange's "This Is What A Girl Can Do" campaign will deploy via radio, print, web, television public service announcements and social media platforms. Monaco Lange designed, wrote and developed the Girl Scouts of the USA's new cookie website, http://www.girlscoutcookies.org.
Advertising Week, the world's premier annual gathering of marketing and communications leaders each year in New York City, which began Monday (Oct. 1) will continue through Friday (Oct. 5).
Attendees at the "Thinking Outside the Cookie Box: How to Keep Youthful Innovation Throughout Your Career" panel, 4 p.m. Thursday (Oct. 4 ) at B.B. King's Blues Club, 237 42nd St., New York, NY, will see the newly redesigned Girl Scout cookie boxes by Anthem Worldwide. Each year, boxes of Girl Scout Cookies end up in cupboards in every zip code across the country. These 200 million boxes have been updated to include stories of what Girl Scouts do today, the fun they have doing it, and all that girls learn from the experience.
Advertising Week participants will also get a taste of Monaco Lange's work to promote the $760 million Girl Scout Cookie Program, which is the largest girl-led business in the country and generates immeasurable benefits for girls, their councils and communities nationwide.
Chatzky, Today Show Financial Editor and host of Money Matters with Jean Chatzky, will lead the panel which will include:
Stefanie Manning, Associate Publisher/Marketing of O, the Oprah Winfrey magazine
Lisa Belkin, Senior Columnist on Work/Life/Family, Huffington Post
Tessa Tinney, Founding Partner and Executive Creative Director, Monaco Lange
Kate Zilio, Account Director and Project Lead for the Cookie Box Redesign, Anthem
Amy Wilkins, Senior Vice President Publisher, Martha Stewart Weddings
Tinney said the goal setting she learned via the cookie program still helps her as a business woman today.
"Every Girl Scout cookie season, I set a personal goal that I would sell the most boxes of cookies of any girl in my troop. Today, I continue to set big goals for myself and my business and every day, I appreciate the challenges, lessons, triumphs and joys of hard work and determination," Tinney said.
About Monaco Lange:
Monaco Lange builds brands that move people into action. The New York-based branding firm integrates market research, strategy, psychology and creative to tell more compelling and captivating brand stories. The agency extends these brand stories across coordinated marketing tactics, including ad campaigns, websites, social media programs and print materials.
The team members are creative problem solvers and have spent their careers building both large and small brands globally and locally. Their goal is to help you captivate and inspire your customers through imaginative storytelling, inciting action and creating results.
In addition to Girl Scouts, Monaco Lange has done work for clients such as Verizon, Yahoo!, British Airways, Hilton, BASF and Circle K. Here is a bigger list of Monaco Lange's clients: http://www.monacolange.com/clientcases
Monaco Lange
153 West 27th Street, Suite 702, New York, NY 10001 http://www.monacolange.com
t: 212.624.5864
About Girl Scouts
Founded in 1912, Girl Scouts of the USA is the preeminent leadership development organization for girls with 3.4 million girl and adult members worldwide. Girl Scouts is the leading authority on girls' healthy development, and builds girls of courage, confidence, and character, who make the world a better place. The organization serves girls from every corner of the United States and its territories. Girl Scouts of the USA also serves American girls and their classmates attending American or international schools overseas in 90 countries. For more information on how to join, volunteer, reconnect, or donate to Girl Scouts, call (800) GSUSA 4 U or visit http://www.girlscouts.org.