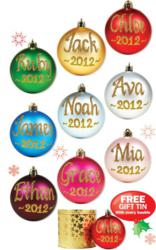 Our products bring magic to children and what better time to do that than Christmas?
Sydney, New South Wales (PRWEB) October 02, 2012
Identity Direct, a leading global personalised gifts website have just released their 2012 Christmas range ahead of this year's holiday season. "Christmas is the busiest time of year for us," says founder of Identity Direct Linda Greene. "Our Christmas range has always been very popular. Our products bring magic to children and what better time to do that than Christmas?"
"We are always looking for exciting new seasonal products that we know our customers will enjoy," says Greene. "One of our most popular products that always sells out is our personalised Christmas Santa Sacks. Personalised Santa Sacks are perfect to keep all a child's presents in under the tree. Kids also love it when they see Santa knows their name and delivered this bundle of presents just for them."
Greene also expects that personalised Christmas decorations will again be popular this year. Identity Direct's collection of personalised Christmas decorations includes baubles individually personalised by hand with name and year. "These look great on the Christmas tree, and are a perfect gift for a child's first Christmas. Many of our customers will buy our baubles and personalise them with their child's year of birth, making them an extra special tree decoration that can be kept as the child grows up."
New additions to the Christmas range this year include personalised wreaths, personalised table runners and personalised Christmas cards. "We've always done personalised Christmas labels, so it's a great extension to now offer personalised Christmas cards too. They come in a variety of designs and we expect them to be very popular this year," says Greene. Identity Direct's Christmas cards come with a message on the front, and space inside the card to personalise even further for individual recipients. "Our Christmas Cards are perfect for sending season's greetings to family and friends."
About Identity Direct
Identity Direct is the world's leading supplier of personalised children's gifts. They create products that bring magical, memorable moments that will live in the hearts and minds of children forever. Identity Direct's products are individually personalised and having been in business since 1992, they're experts in personalisation. Identity Direct appreciate the joy their products bring and take their responsibility to provide great quality products, matched with unrivalled value and superior service seriously.
Identity Direct also partner with some of the biggest children's brands in the world – including Disney, Marvel, Sesame Street and Nickelodeon. These partnerships let them combine the uniqueness of personalised gifts with the magic of children's favourite characters. If unique, memorable and magical is what you're looking for in a gift, Identity Direct can help!