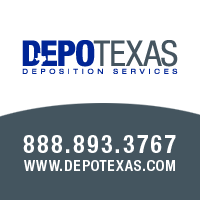 Houston, TX (PRWEB) October 02, 2012
DepoTexas, an award-winning freelance court reporting and litigation support firm, announced today that it has completed a merger with Allied Advanced Reporting, Inc. Allied Advanced Reporting, founded in 1999, has served the Texas legal community with a strong standard of excellence, integrity, and a tradition of quality service.
"We are very excited to team up with one of Houston's most respected court reporting firms," said Michael Clepper, Chief Executive Officer of DepoTexas. "Peggy Antone and Susan Henley, co-owners of Allied Advanced Reporting, are two of the most accomplished reporters in Texas and both are known nationwide for their professional achievements. They share our focus on customer support and providing world-class service."
"Our merger with DepoTexas will allow us to serve a larger market and continue providing the full array of litigation support products and services we offer. This is a great step forward for our business and we are happy to be joining the DepoTexas team," said Peggy Antone and Susan Henley. "Together our companies will be the premier court reporting and litigation support services firm in Houston. With affiliated offices in Dallas, San Antonio, Austin and Corpus Christi, we are a statewide one-stop shop for our clients."
Peggy Antone is both a Texas and National Speed Contest Champion, and served as President of the predecessor organization to the Society for the Technological Advancement of Reporting. Susan Henley is a Texas Speed Contest Champion and a National Speed Contest Medalist. Both Peggy and Susan are honorees of the Texas Court Reporters Association Hall of Fame and Fellows of the Academy of Professional Reporters associated with the National Court Reporters Association. Additionally, they are both past Presidents of the Houston Court Reporters Association and past Directors of the Texas Court Reporters Association.
As Certified Realtime Reporters, Susan and Peggy are experienced Realtime writers in all types of litigation matters. Utilizing those skills necessary to be a verbatim Realtime writer, Susan has provided live open captioning for the Houston Astros and the Houston Rockets for the past 13 years. The affiliated reporters working with Allied Advanced Reporting are a solid, talented and experienced group comprised of Certified Realtime Reporters with an average of 15 years of experience.
The DepoTexas/Allied Advanced Reporting, Inc., merger solidifies DepoTexas' position as the leading provider of court reporting services for the Texas legal community. It also extends the company's innovative production practices and technology solutions to a broader group of industry professionals, enabling them to improve their efficiency and enhance their long-term success.
About DepoTexas
Since 1987, DepoTexas has provided fast, accurate and reliable court reporting and video services to the legal community. As the leading privately held deposition and litigation services firm in Texas, the Company is headquartered in Houston with six additional fully staffed office locations throughout the state. The Company is known for its industry knowledge, technology leadership, and professionalism. Clients count on DepoTexas to help them better manage their caseloads and strengthen their productivity. DepoTexas was voted Texas' Best Court Reporting Service by Texas Lawyer Magazine readers for 2011 and 2012. For more information, visit http://www.depotexas.com.
Contact DepoTexas
Andrea Abramson
888.893.3767