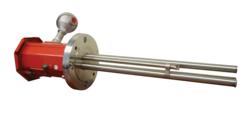 Service time is significantly reduced without impacting operations.
Pittsburgh, PA (PRWEB) October 01, 2012
Chromalox®, a leading manufacturer of electric heat and control products, is offering a new white paper examining how an innovative tank heater design with replaceable parts can prevent downtime and reduce operating costs. The solution addresses a critical issue for oil and gas and petrochemical processing operations.
The white paper compares and contrasts this type of tank heater with traditional immersion heaters and pipe-stand style immersion heaters. Traditional pipe stand heaters require customized tanks with the heater welded into the tank. Because the heater cannot be removed, the tank must be drained for maintenance and repairs, which disrupts operations. The contents must be transferred for storage to other tanks. Personnel with specialized training must complete the repairs.
"By comparison, the Chromalox immersion heater can be removed and repaired without draining the entire tank," said Mark Wheeler, Director/Global Product Manager, Systems and Service. "Service time is significantly reduced without impacting operations."
The white paper also explores energy and environmental advantages of the innovative tank heaters. For instance, traditional stand pipe heaters use toxic materials in the heating medium that can endanger workers and the environment – and result in fines by the U.S. EPA under the Clean Air Act. The innovative Chromalox design eliminates pollution and reduces operating costs by using air to conduct heat rather than oil.
The white paper, which can be downloaded at http://www.chromalox.com/catalog/resources/WP-TankHeating.pdf includes specifications and applications of the new heaters for both large and small tanks.
For more information, visit. http://www.chromalox.com