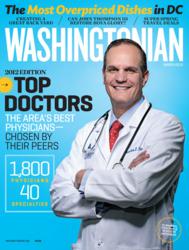 (PRWEB) October 02, 2012
Washingtonian Magazine and Northern Virginia Magazine have named Dr. Amir Bajoghli one of the areas top doctors in the area of dermatology.
Washingtonian Magazine sent questionnaires to 7,000 randomly selected local physicians asking them what doctors, in each of 40 medical specialties, they would send members of their families to. More than 1,300 responded, and for the 6th year in a row, Dr. Amir Bajoghli was named top doctor for 2012 in the March issue of Washingtonian Magazine. Together they named thousands of physicians in the Washington/Baltimore area.
Northern Virginia Magazine annual Top Doctors list is compiled based on peer and panel recommendations. This year, Northern Virginia Magazine asked nine local hospitals to put together a panel of doctors to discriminatively look at doctors with privileges at their facility. According to the magazine, panels nominate doctors based on internal evaluations, patient reviews and overall quality of care, which encompasses patient access, training, unblemished records and how the physician works with other staff. Northern Virginia magazine named Dr. Amir Bajoghli one of Northern Virginia's top doctors for 2012 in their February 2012 issue.
Dr Bajoghli became Associate Clinical professor of Dermatology at Virginia Commonwealth University. He also holds academic appointments as Assistant Clinical professor at George Washington and Georgetown University Schools of Medicine. He is currently practicing as a dermatologist and owner of Skin & Laser Surgery Center PC (http://www.bderm.com) with offices in Tysons Corner, Woodbridge, and Stafford Virginia. The center specializes in laser, dermatologic, cosmetic, and Mohs micographic surgery treating patients for all skin care concerns, including skin cancer surgery, cosmetic dermatology, sclerotherapy, laser peels, laser hair removal, hyperhidrosis, rosacea, and acne treatments.
For more information, visit the Skin & Laser Surgery Center website at http://www.bderm.com.