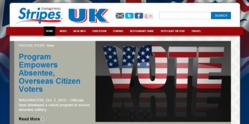 "If you want to know what's happening on- and off-base, check out the Stripes UK community site."
Mildenhall, England (PRWEB) October 15, 2012
While the language might be familiar, being assigned to the United Kingdom brings a host of other issues to navigate for military families. The new Stripes UK community website from Stars and Stripes provides valuable local information the U.S. military needs most, online at http://uk.stripes.com.
"The Stripes UK community website provides easy access and pertinent coverage to the U.S. military community at a time when everyone wants information right here, right now," said Genevieve Northup, Publishing and Media Design writer.
This bright, user-friendly site provides an information platform for military personnel and family members about U.S. military bases, reader-submitted reviews of restaurants, news, travel information and free classified ads.
"If you want to know what's happening on- and off-base, check out the Stripes UK community site," Northup recommends.
The launch of the revamped website, which offers quick and easy access to essential information for newcomers and old-timers alike, is part of Stars and Stripes' ongoing efforts to enhance the quality and availability of information for members of the U.S. military community—wherever they are stationed.
_________________
About Stars and Stripes
Stars and Stripes reports on military matters as the only independent source for news and information operating inside the U.S. Department of Defense that serves the global U.S. military community. Editorially independent of any outside interference and influence, Stars and Stripes provides commercially available U.S. and world news and objective, factual staff-produced stories relevant to the military community it serves.
In addition to providing news in print, Stars and Stripes offers its unique reporting on stripes.com and through the Stars and Stripes iPhone App, now available on the App Store. Visit stripes.com/iPhone for more information.