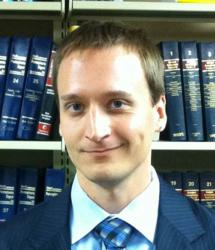 They use loopholes in legal procedures to obtain your identity from your ISP. Then the high-pressure letters and calls begin flooding in.
Allentown, PA (PRWEB) October 11, 2012
Leonard J. French, a high-tech attorney in Allentown, Pennsylvania, has been defending individuals and businesses against accusations of online copyright infringement. With a recent ruling by Federal District Court Judge Michael Baylson, five cases may now lead the way for future decisions on piracy claims.
The Plaintiffs are 'copyright holders'. But because of their strong-arm tactics, often analogized to legal extortion, they have earned the name 'copyright trolls'. They exist at the intersection of law and technology.
And now these cases will be put to the test. In his memorandum and order, Judge Baylson, recognizing that the defendants "are, in a sense, being penalized" for challenging the case against them, selected five of the piracy defendants to proceed to an expedited trial, known as a Bellwether trial, in cases 12-2078, 12-2084, and 12-2088 out of the U.S. District Court for the Eastern District of Pennsylvania. These five cases are to be used to set the legal precedent for future claims of online piracy.
The test cases are a landmark decision in the United States. Almost all of these types of cases are dismissed or settled without reaching a trial on the merits. And many of those settlements are from defendants who simply can't afford to take a chance of being named in a public lawsuit over illegal downloading.
The Plaintiffs cleverly use loopholes in legal procedures to obtain individuals' identities from their Internet Service Providers (ISP) based solely on the collection of public IP (internet protocol) addresses. Then the high-pressure letters and calls begin flooding in. Most people never see it coming. Others never knew anyone was watching. And for a sum of several hundred to several thousand dollars, they will leave you alone, as if nothing ever happened.
Many of the lawsuits are over the downloading of adult content, though Plaintiffs may also pursue individuals for downloading software, music, and movie downloads. Some have even sued over the piracy of books and textbooks.
But there is a growing body of high-tech lawyers who represent the accused. Lawyers like Leonard J. French who have backgrounds ranging from software development to technology start-ups to trial litigators.
With the help of these attorneys, individuals who are accused can get advice on how to fight the claims against them. There are often holes in the Plaintiffs' cases that make it difficult for them to win.
Individuals or companies who have received a notice in an internet piracy case should contact an attorney with internet and technology experience for legal advice.
Leonard J. French is an intellectual property attorney in Allentown, Pennsylvania. He represents clients in areas of technology and internet-related law. Mr. French's non-legal background includes software development, systems engineering, and web site design.