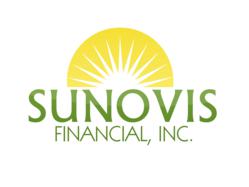 "Small businesses in particular are having a difficult time obtaining loans from traditional sources," says Founder Mark Huddleston. "Sunovis represents a new way to help businesses and all borrowers."
San Francisco, CA (PRWEB) October 01, 2012
Sunovis Financial has officially opened its doors. The core mission of Sunovis is to help get the U.S. economy going again, one loan and one business at a time. Sunovis helps borrowers, small businesses and small banks with their lending needs. The company represents a new non-traditional model to help meet heavy demand brought on by constrained capital markets.
Founder Mark Huddleston says, "There is no question we are building something special, a new model, to assist borrowers and small businesses. We want them to compete and thrive in this difficult period. And this will be good for America."
The San Francisco-based company has a nationwide team, including SBA experts and its division called The Lending Circle, who help borrowers with loans for their businesses, typical refinancings, micro loans, loans that are termed "near bankable deals", and traditional loans. Sunovis also helps small banks compete and stabilize through offering complete SBA outsourcing services. Sunovis Financial has a wide network of banks through the U.S. and actively works with those who ARE indeed financing deals today.
"Small businesses in particular are having a difficult time obtaining loans from traditional sources," says Huddleston. "We work with the lenders who are able to loan and want to loan, and we help advise small businesses in particular."
In the past, a small business or borrower would go to their local bank and apply for a loan. Today, for a multitude of reasons, that bank may not be able to lend, and then the borrower isn't sure where to turn next. No matter the location or type of loan, Sunovis will help the borrower. The company finds the best bank or lender, anywhere in the U.S. that offers the best terms. "We do the legwork to help the borrower, and we offer guidance as well, especially on the intricate but worthy SBA loans. The lender who best meets your criteria may be located in another state which would have been difficult or impossible to have found otherwise," says Co-Founder Terry Robinson. "We source and match within our wide network and bring a valuable service."
Information can be found at http://www.sunovisfinancial.com.
About Sunovis Financial:
Sunovis Financial helps borrowers, including small businesses, with their lending needs nationwide. Sunovis is a combination of the Latin words for "sun" and "new". The company team believes in creating a new day; the work that Sunovis will do represents a new day for small businesses, borrowers, the economy and ultimately our country.