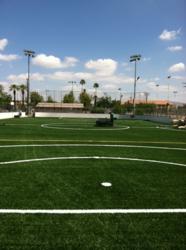 Vista, CA (PRWEB) October 03, 2012
EasyTurf, a FieldTurf company, continues to be the industry leader when it comes to answering the demand for safe, high-performance recreational surfacing. EasyTurf boasts the most advanced technology for injury reduction as well as drainage, appearance and natural look and feel. With player safety in mind, EasyTurf has become the most trusted authority and #1 source for multi-use fields across North America.
"EasyTurf gives companies and communities the ability to enhance their appeal by providing an ultra-realistic, innovative and cost-saving multi-use/recreational field that is safer and healthier for their participants than even natural grass," said David Hartman, EasyTurf President. "EasyTurf's superior synthetic grass products also dramatically reduce the need for irrigation and maintenance costs."
The smooth, even EasyTurf playing field can reduce potential injuries for players. Uneven, partially barren natural grass fields can contain dangerous holes or slippery mud areas. Many communities that value player safety, including Moreno Valley, also turn to artificial grass to benefit from dramatically lower water and maintenance costs. The new artificial turf at Moreno Valley Soccer Field is just over 16,000 sq. ft. and has the potential to save over 800,000 gallons of water per year. These potential savings help to make the switch to EasyTurf a popular option for the multi-use and recreational field industry. EasyTurf also eliminates the need to commit large funds and numerous time-intensive man hours to maintain the grounds.
About EasyTurf
In May 2010 EasyTurf, Inc. a long-time distributor of FieldTurf's line of landscaping products and a recognized leader in the artificial grass industry, became the national brand of FieldTurf's landscape, pets, playground, and golf artificial grass products. The partnership allowed FieldTurf to rapidly expand its existing dealer network and accelerate sales and distribution of FieldTurf's landscape products on a national level to homeowners, municipalities, schools, businesses and the military.
Contact:
Jackie Luper, Director of Marketing
Phone: (760) 745-7026
Fax: (760) 888-2011
# # #