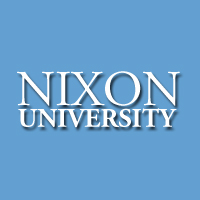 Corpus Christi, TX (PRWEB) October 01, 2012
The focal point of any online educational institute is on interaction and customization of the course according to each student requirement. Keeping in mind the impending drift, Nixon University as it always has been dedicated towards improving the processes to allow efficient delivery of the education has integrated an open source course management system (CMS) called The Moodle, which will further augment the educational experience for Nixon University students and instructors.
Moodle has turned out to be exceedingly popular in the world of online education especially for the educators as it allows them to create online dynamic websites and classrooms to provide education in real-time. The educators at Nixon University will be using Moodle to manage and promote learning and it will assist them in removing all the interaction and customization problems that students faced before. Moodle will be used by Nixon University instructors in three different ways. The first goal would be to design the overall degree program in a customized way, which will help students to opt for the courses they find interesting. The second target would be increasing the interaction, and building a richly collaborative online learning community around the subject of discussion through different activity modules such as forums, databases and wikis. Nixon University's third and most important goal of using Moodle is the effectual way of delivering content to students and assess the overall learning of the students and matching the delivery of course with the students pace.
At this occasion of progression, the Academic Head at Nixon University commented: "The use of free- and easy to use learning management system by Nixon University is like taking a step closer towards providing a comprehensible and clear direction to online education. Managing thousands of students was not an easy job for the instructors, but by using the new Moodle system, instructors can not only manage the students and their individual records but also their quizzes and assignments in an organized manner" He further stated: "This system will help us create an intellectual environment to facilitate effective online learning, we will also take part in the advancement and research undertaken by researchers, experts and practitioners on this system and share the achievements and experiences we have had using Moodle"
Nixon University is a well known name in the field of online education because of the number of career services it offers. It not only provides quality education but also promotes accessibility and affordability to all the working professionals across the globe. It has been established with the mission of assisting students and working professionals to attain fast track and unremitting career growth.
About Nixon University:
Nixon University is an accredited online university that stands to make quality education accessible to all the students across the globe. Nixon University is completely accredited by a globally renowned accreditation body Q.O.E.C.B (Quality Online Education Certification Bureau) that provides the status of accreditation after evaluating the applicant on tough educational standards. Being a member USDLA (United States distance learning Association), Nixon follows strategically designed curricula and maintains the highest standard of education to provide its students an edge over their colleagues by offering a wide range of majors through its 16 distinct and renowned schools of study. For more information visit http://www.nixonuniversity.com