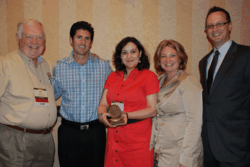 Minneapolis, MN (PRWEB) October 04, 2012
In 2009, Jazheel Santiago became "one of those trainers." For her first presentation, she read every one of the 45 PowerPoint slides while the trainees' eyes glazed over. Suddenly, training didn't look so simple and fun.
However, in 2010, Santiago participated in a Train-the-Trainer Boot Camp where walking into the classroom had her entering a new world. Many of her senses were engaged when she saw the unique table settings, touched the soft kinesthetic toys, smelled the markers, but most of all heard ways to energize training and have learners participate in their own learning.
Then, in her own classrooms, "I began making simple changes such as setting the tables the way Priscilla [Shumway] taught me, using more colors, drawing window panes of a product mechanism of action while the class was run by another peer and hanging them on the walls during the whole class; I saw that during the breaks [learners] approached the drawings and some of them copied the design in their notebooks," Santiago said. Then, "I thought, 'It's time to take the next step' and I made the students construct their own window panes and mind maps to find the real meaning of what they were learning. The results were amazing!"
The results of her training transformation have resulted in a three-step sales process that has helped sales representatives become more effective.
The Pike's Peak Performance Award is a formal recognition of trainers or organizations who have transformed their training by implementing participant-centered, results-based techniques championed by Bob Pike. These techniques involve participants in their own learning instead of relying on an instructor-led, lecture-based format. The award recipients have demonstrated improved retention and training transfer in their sessions by implementing these methods as well as an increased tie-in to business objectives.
Award winners are nominated by colleagues, other learning professionals or The Bob Pike Group training consultants.
About The Bob Pike Group
The Bob Pike Group has provided train the trainer workshops and consulting services to individuals and corporations for more than 30 years. Bob Pike is the pioneer of the participant-centered training method and has a well-earned reputation as "the trainer's trainer." More than 125,000 people have gone through his Creative Training Techniques Boot Camp and more than 200,000 copies of his Creative Training Techniques® Handbook have been sold. There simply is no one in the training industry as well known and respected as Bob Pike. The Bob Pike Group trainers take those same methods and passion for learning and funnel them into interactive sessions in any training platform or mentoring format.