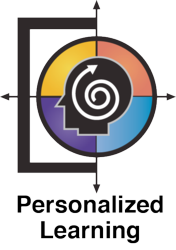 Learning Plan libraries help new teachers get comfortable quickly and become productive right away.
Palo Alto, CA (PRWEB) October 01, 2012
Personalized Learning is the result of a three-way collaboration among CollegeOnTrack, Human eSources (for student assessments), and Communitas Charter High School (for Learning Plans).
Human eSources of Marlborough, CT, partnered with CollegeOnTrack to provide three of its well-known student assessment tools inside the CollegeOnTrack platform. Do What You Are helps students zero in on college majors and career choices that fit their personalities. MI Advantage reveals multiple intelligences to help students exploit their strengths and compensate for weak areas. Learning Styles shows what learning environments best fit a student's inclinations. Teachers, counselors, and families can use the results of these assessments to counsel students and help them plan their futures.
Communitas Charter High School of San Jose, CA, worked with CollegeOnTrack to develop the design of Learning Plans, and were the first school to test the new software. Learning Plans tie broad goals to milestones and tasks; allow collaborative, project-based learning; and provide instant status reports to teachers and grade results to students. They build up into libraries that allow teachers to easily re-use their work and pass along successful plans to new teachers. Learning Plans can be shared among schools. Marketing V.P. Phil Roybal explains, "Learning Plan libraries help new teachers get comfortable quickly and become productive right away."
Taken together, student assessments and Learning Plans help schools build educational equity by giving them tools to reach students in the most effective ways and provide a sound structure for complex projects.
CollegeOnTrack's top management will be in the company's booth (#908) at the NACAC Annual Conference from October 4th through 6th to demonstrate the new capabilities and answer questions.
About CollegeOnTrack
CollegeOnTrack is a web-based system that enriches the learning experience in middle and high school as it prepares students for college and successful careers. It offers a combination of rich digital portfolios, collaboration support, and task management that helps students build a mindset of success.
For more information about this topic, or to schedule an interview, contact Philip Roybal at (408) 782-4244, or phil(at)collegeontrack.com.