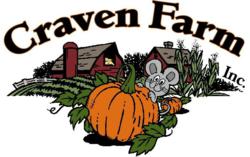 Our favorite part is being able to share our farm with so many families throughout the Puget Sound area. Some children would never get to experience a farm. We feel that it is very important for children (adults too) to know where their food come from.
Snohomish, WA (PRWEB) October 02, 2012
October marks the 30th anniversary of Craven Farm and the beginning of this season's Harvest Festival in Snohomish, Washington. Fellow small business, Viridian Tax and Accounting, congratulates Craven Farm and recognizes the financial impact and economic boon the annual fall activities bring to the community. This season in particular offers much-needed agricultural respite from the current national drought.
Nearly 80 percent of agricultural land across the United States currently suffers from drought, says the Economic Research Service for the United States Department of Agriculture, indicating a more widespread drought than any other since the 1950s.
Established in 1982, Craven Farm, located between Lord Hill and the Snohomish River, spans 70 acres and is comprised of pumpkins, corn maze, barns, and farm animals. Originally a dairy farm, Craven Farm was purchased by Mark's grandparents, Walt and Lydia Krieger, nearly 65 years ago. The Kriegers operated a typical early 1900s farm: milking cows, working the fields, cultivating berry patches, sewing, and baking. Lydia was one of the first farmers in the area to sell strawberries to local stores.
Craven Farm of today operates differently than its 1937 counterpart. Due to import/export changes, the widespread availability of fresh produce, and the impact of recurring drought, farmers across the country have adjusted to decreasing needs for local goods. Viridian applauds Snohomish farmers Mark and Judy Craven for their business adaptability and leadership in the agriculture community through their use of agri-tourism/agri-entertainment.
Craven Farm offers a range of agri-entertainment services: hay rides, pumpkin slinging, face-painting, kettle corn, espresso, corn mazes, late night "haunts," a gift shop, and rental facilities for weddings and reunions. Although they have been impacted by the current drought, Craven Farm still offers fresh, locally grown produce, including their sweet corn, gourds, and many varieties of squash. They also utilize what's commonly known in the business as "creative farming."
"Agri-entertainment has made it possible for us to continue farming and stay on the farm. In some ways it has made it commercial, but we have tried to keep our farm as 'farmy' as possible and still have a safe place for people to come." – Mark and Judy Craven
Mark is an active member of the Snohomish County Agricultural Advisory Board as well as the Snohomish Valley Festival of Pumpkins. Mark and Judy Craven invite you to visit their farm located at 13817 Short School Road Snohomish, WA 98290. For more information, stop by their website and find them on facebook.