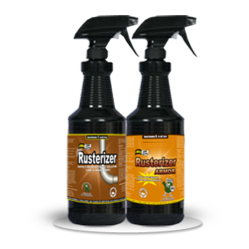 Safe as it is, the solution [Rusterizer] can be used to any rust-damaged material.
Seattle, Wa (PRWEB) October 05, 2012
A rust remover is an essential part of a rust treatment. However, consumers must see to it that their choice for the product is safe apart from effective. And according to MyCleaningProducts, its non-toxic rust removal spray is exactly just that – safe and effective. So, it highly recommends the use of it to homeowners and rust contractors. Additionally, it encourages the purchase of it today as its shipping is currently for free.
Try Before You Buy. Get a Sample of Rusterizer Today
Rust treatment is generally a hard work. It requires long hours of scrubbing of the rusted item. And in many cases, that further ruins the material that is supposed to be cleaned thus, creating more problems.
With a rust removal product though, things are made easier. And that, consequently, makes the treatment faster. Not to mention, it also enables anyone to implement a prompt rust removal process thereby preventing the worse effects of the corrosion process.
Yet, just any rust remover will not make a rust treatment truly effective. Whoever will implement the process must make sure that the rust spray he or she will purchase is safe and effective just as MyCleaningProducts said. With it, the company added that the home items and even the health of the family members are protected.
But of all the rust removal products offering safe and effective rust treatment, MyCleaningProducts believes that its Rusterizer is the best. It said that it was already proven not to cause allergies and breathing problems unlike the chemical-based rust removers. Apart from that, it also stated that its effectiveness eliminates the need to scrub for hours.
See Rusterizer in Action. Discover All the Benefits It Could Give
As the product is made with natural ingredients, a company representative added that any Rusterizer user is also spared from getting more than one rust removal spray. Safe as it is, the solution can be used to any rust-damaged material. Hence, there is no need to buy other rust removers for different surfaces and items.
But as a new product, MyCleaningProducts knows that some consumers will doubt Rusterizer. Nonetheless, it is ready to prove the solution's worth. And to do that, it released a video demonstration featuring the effectiveness of the solution. More than that, it also decided to give out complimentary samples of the said product.
As a show of gratitude to consumers who will choose to trust Rusterizer, recently, MCP also opted to waive its shipping fee. With it, it aims to give its homeowner and contractor clients even more financial benefits.
Take Advantage of the Free Shipping Special. Order Your Rusterizer Now