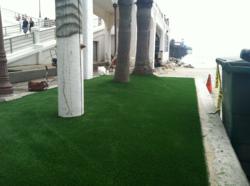 Vista, CA (PRWEB) October 02, 2012
EasyTurf continues to add to their vast list of high profile clients, businesses, and companies that understand the need for high quality, extremely durable, cost-effective, water-conscious landscape. Commercial, municipal, and public places such as the Oceanside Pier require landscape with both visual appeal and aesthetics, balanced with surfacing that won't fade or require maintenance, costly up-keep and extensive watering, all of which costs taxpayers money. EasyTurf was able to over deliver in every area, creating the atmosphere and fiscal responsibility the public expects and deserves.
The industry leader in product innovation and authenticity, EasyTurf delivers expected results, being second-to-none in terms of superior synthetic lawns. A proprietary 100% porous backing, expert installation, and a commitment to an exceptional customer experience continues to make EasyTurf the trusted authority for elite clients from coast-to-coast.
The challenges of such important public projects include preserving and enhancing the client's elite status, while at the same time providing a low maintenance, cost-cutting, water-conscious solution. Because EasyTurf can literally be installed and fit anywhere, precise cuts around and existing landscape, fountains, or walkways make for truly unique projects. Some of the most notable EasyTurf clients who've taken advantage of artificial grass benefits include Walt Disney World Resorts, Sea World San Diego, and the United States Marine Corp, among hundreds of other cities, municipalities, water districts, schools, day care centers, and animal shelters and facilities across North America.
"EasyTurf provides cities, companies, and residents with the ability to enhance their appeal by providing an innovative, cost-effective, welcoming landscape that slashes water bills by up to 70% and virtually eliminates maintenance time and fees," said Dave Hartman, President at EasyTurf. "EasyTurf's superior synthetic grass and exceptional customer service continue to attract high-profile public areas and businesses searching for high-quality aesthetic improvements that save money over the long term."
Many municipalities, businesses and military installations turn to artificial grass as a landscape alternative to benefit from dramatically lower water and maintenance costs. These potential savings help directors and decision makers to make the switch to EasyTurf, creating an impressive brand while solving the huge problem of needing to commit large funds and numerous time-intensive man hours to maintain landscape areas.
About EasyTurf
In May 2010 EasyTurf, Inc. a long-time distributor of FieldTurf's line of landscaping products and a recognized leader in the artificial grass industry, became the national brand of FieldTurf's landscape, pets, playground, and golf artificial grass products. The partnership allowed FieldTurf to rapidly expand its existing dealer network and accelerate sales and distribution of FieldTurf's landscape products on a national level to homeowners, municipalities, schools, businesses and the military.
Contact:
Jackie Luper, Director of Marketing
Phone: (760) 745-7026
Fax: (760) 888-2011
# # #