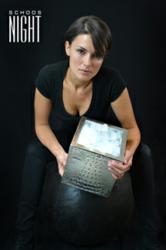 Coming out of the recession, people are looking for a touch of elegance again.
West Hollywood, California (PRWEB) October 01, 2012
A strong trend at the New York Fashion Week this month was to use metallic fabrics in styles for women, as seen in many of the dresses designed by Calvin Klein, Herve Leger and others. According to famed interior and home product designer Thomas Schoos, this zeal for things shiny will also be popular in designs for the home this fall and winter. For example, Schoos is offering a number of chic home accessories with metallic finishes as part of his Thomas Schoos Signature line this fall, such as this sleek modern planter with a silver alligator finish that can also double as a champagne cooler.
"The obsession with all things high-tech is spilling over into interior design," notes Schoos, who has designed some of the hottest restaurants and hotels in the U.S., as well as a distinctive brand of consumer lifestyle products. "My spin on the trend is to combine metallic colors with natural textures and artistic forms, so that high-tech becomes more creative and exotic. The shiny color says 'modern' but the rich organic texture says 'luxury' and 'tradition.'" Schoos points out that his silver planters are useful for a variety of purposes, whether serving as an eye-catching planter on the patio in summer; or, as an ice bucket or champagne cooler in the winter to bring a modern flair to holiday parties. Plus, it's a gift idea that works for both men and women.
If a customer would rather use the product as a planter full time, Schoos also offers a variety of shapes, sizes and patterns ranging up to 27 inches square, which is large enough to hold bushes or small trees. For instance, a variety of these larger planters are featured in the front of Schoos Night, Schoos' showroom in West Hollywood, California, where they hold boxwood hedges. In each case, Schoos planters combine natural or abstract patterns such as sea shells, bamboo, wave forms or cubist patterns with a variety of textures and colors including bronze, rust, gold or silver metallics.
Besides the planters, Schoos offers a number of other stylish pieces for the home that feature shiny metallic finishes, resembling large pieces of jewelry more than furniture or fixtures. For instance the "Bangle," "Sabre" and "Crown" side tables were modeled on actual bracelets and rings, while a number of lamps and mirrors in the Schoos Online Shop also have finishes in bronze, silver and gold. "Coming out of the recession," Schoos says, "people are looking for a touch of luxury and elegance again. But they want designs that are modern and creative too. All of these designs offer a flash of color but with organic and abstract forms that keep the vibe fresh and artistic. That's the secret to innovative home décor this season."
Thomas Schoos is known as designer of some of the most successful hospitality venues in the U.S., ranging from Tao Restaurant and Nightclub at the Venetian Hotel in Las Vegas, which has been the top-grossing restaurant in the U.S. every year since it opened in 2005, to Searsucker in San Diego, voted by Open Table as the second most popular restaurant in the country in 2011. Schoos has partnered with celebrity chefs like Iron Chef Morimoto and Top Chef's Brian Malarkey to design numerous restaurants in many cities, with dozens more planned. Meanwhile, Schoos continues his career as an artist and painter, contributing original works to many of his projects and even incorporating art into their structures and designs. This year, his design for Morimoto Mexico City was named one of two finalists in the Hospitality Design Awards for Fine Dining.
# # #
For more information on Schoos products and designs, or to interview Thomas Schoos, please contact our PR department by email at pr(at)schoos(dot)com or by telephone at 323-822-2800. Information is also available on the Schoos Design website at http://www.schoos.com.