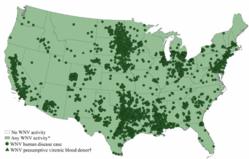 According to Charles Apperson, Professor of Entomology, North Carolina State University, "Spring rains followed by hot, dry weather are conditions that promote the production of Culex mosquitoes that amplify the virus in bird reservoirs."
Seattle, WA (PRWEB) October 01, 2012
According to the CDC, as of September 25, 2012, 48 states have reported West Nile virus infections in people, birds, or mosquitoes. 3,545 cases have been reported thus far in 2012. This number is the highest of West Nile virus disease cases reported to CDC through the last week in September since 2003.
Where is the biggest concentration of West Nile Virus Cases?
The CDC reports that seventy percent of the cases have been reported from eight states (Texas, Mississippi, South Dakota, Michigan, California, Louisiana, Oklahoma, and Illinois) and 38 percent of all cases have been reported from Texas.
West Nile Virus Facts & Prevention Techniques
What is West Nile?
A strain of encephalitis, a disease carried by certain mosquitoes.
What are the Symptoms of West Nile Virus?
Severe symptoms can include high fever, strong headache, nausea and vomiting, neck stiffness and muscle aches, stupor, disorientation, coma, tremors, convulsions, vision loss, numbness and paralysis. No Symptoms in Most People. Approximately 80 percent of people (about 4 out of 5) who are infected with WNV will not show any symptoms at all.
Who is most at risk for West Nile?
People older than 50 and young children.
How soon does one get sick after being bitten?
Up to 14 days post-bite.
What Steps Can People Take To Protect Themselves from West Nile Virus Infection?

Be aware of the local West Nile virus activity and take action to stay protected
Information about where WNV cases are occurring in the United States is available via: http://www.cdc.gov/ncidod/dvbid/westnile/
The best way to prevent West Nile virus disease is to avoid mosquito bites:
o Use insect repellents on exposed skin when you go outdoors
o Wear long sleeve shirts, pants, sock and/or hats that are treated with Insect Shield® Repellent Technology – especially during dawn and dusk hours when mosquito activity peaks.
WHERE TO BUY: Insect Shield Repellent Apparel http://www.insectshield.com/work
MORE INFORMATION: Insect Shield Technology Information http://www.insectshield.com
o Install or repair screens on windows and doors
o Empty standing water from items such as flowerpots, buckets, kiddie pools and gutters.
About Insect Shield Technology:
In July 2003, Insect Shield Repellent Apparel was registered by the US Environmental Protection Agency (EPA). Insect Shield® Repellent Apparel technology provides effective and invisible protection against mosquitoes, ticks, ants, flies, chiggers, and midges (no-see-ums) through 70 launderings. Insect Shield® Repellent Gear technology repels mosquitoes, ticks, flies, and fleas through six months of constant exposure to weathering (sun/rain). Insect Shield technology has the potential to be an important tool in the battle against insect-borne diseases.
For more information:
http://www.insectshield.com
http://www.insectshield.com/work
http://www.facebook.com/insectshield
@insect_shield