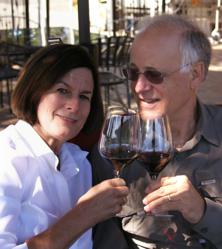 St. Helena, CA (PRWEB) October 02, 2012
Three small-lot winemakers, hidden on St. Helena's Fulton Lane, are producing world class wines that are worth seeking out.
The Accidental Winemaker
When Randle Johnson graduated from college, he had no intention of making wine. Now, nearly 40 vintages later, he's obsessed with it. When he's not making wine for one of the most well-regarded, large wineries in Napa Valley, Randle Johnson makes wine on a more personal scale for the loyal following that has discovered Calafia Cellars.
Randle Johnson's reputation a consummate winemaker began as a bit of a fluke. Entering UC Davis in the late 1960s, Randle's focus was on a career in the medical profession. That led to countless courses in the hard sciences, and to two degrees – one in science, and the other in psychology.
After graduating, and feeling he needed a break from academia, Randle took a job that required him to travel throughout Northern California, including its wine country. He became fascinated with the way the vineyards looked, and the way they grew.
Returning to UC Davis, he talked with his Graduate School advisor, who suggested Randle enroll in the school's Viticulture Program which, at the time, was lacking students. After being pursued by his advisor for several months, Randle took "a left turn instead of a right turn," ending up, in 1974. with a graduate degree in Viticulture. Randle headed straight for Napa Valley, where he took a job with a vineyard management company. But he was not destined to stay solely in the fields.
In 1975, Randle moved to the winery side of the business, where he remains to this day. His career includes winemaking posts with Villa Mt. Eden, Stag's Leap, Mayacamas, and The Hess Collection, where he serves as Founding Winemaker.
While working for Mayacamas, Randle became enamored with Cabernet Sauvignon that was being grown on the steep, volcanic slopes of Mt. Veeder on the west side of Napa Valley. He began crushing his own grapes from that locale in 1979, and launched Calafia Cellars that same year. In 1992, Randle married MaryLee, who jumped headlong into the winemaking fray. Today, each of them plays a specific role at Calafia. "Randle just makes the wine," quips MaryLee, "I do everything else."
In Calafia Cellars' early days, Randle's expressed his fascination with Mt. Veeder fruit in about a half-dozen wines every vintage. "I was intrigued by the differences in fruit from the west-facing and east-facing slopes of Mt. Veeder," Randle says, "so I made a Cabernet from each side, and a Merlot from each side, and a Zinfandel from each side, letting the terroir express its unique identity in each wine." All were very well made and produced in very small lots. Now, 33 years since its first vintage, Calafia Cellars has consolidated its production to just two wines, a Napa Valley Cabernet Sauvignon, based Mt. Veeder fruit; and the winery's signature "La Reina" estate blend of Cabernet, Malbec, and Petit Verdot that all grown on the Johnson's property on Fulton Lane. The winery's production hovers at around 500 cases.
Calafia Cellars has a small-but-national following, built largely by word-of-mouth. For the most part, the winery remains, as Randle puts it, "kinda under the radar," a treasure waiting to be discovered by those willing to venture off the beaten path.
The Grapes are Talking
"Listen to the grapes." It sounds crazy, but that's what winemaker Scott Harvey does as he crafts the elegant wines that bear his name. "The grapes should tell their story, not mine," Scott says. "They should say, for example, 'I'm Cabernet, I'm Napa Valley, I'm from this particular vineyard, I grew in this particular year,' and so forth. It's more than just a sense of place – it's an entire story, told in a glass."
Scott chalks-up his "grape-listening" tendencies to his European training as a vintner. Raised in the winegrowing region of California's El Dorado County, Scott got his first taste of winemaking in the Rhineland Pfalz wine region while in Germany as a high-school exchange student in 1972. "I liked being in the vineyards and the winery a whole lot more than being in the classroom," Scott admits.
After returning to California, and working his first harvest with Montevina Winery in the Sierra Foothills he found he had been bitten hard by the winemaking bug. He returned to Germany and enrolled in a junior-college winemaking program. During the program, Scott signed-on for a year as an winemakers' apprentice in Germany.
Returning to California, Scott worked for two years for Montevina, before becoming head winemaker at Story Winery at the age of twenty-three. In 1979, Scott was hired to build Santino Winery (later renamed Renwood) a facility in which he took partial ownership in the mid-80s and ran until 1995. That year, Scott was asked to come to Napa to become partner, president and winemaker at Folie à Deux, where he created the very popular "Ménage à Trois" blend of Zinfandel, Merlot, and Cabernet.
In 2004, Scott and his wife Jana, a winery sales and marketing maven in her own right, were ready to launch their own wine label. Rather than building and maintaining their own facility, they decided that theirs would be a "winery without walls," and that they would do their winemaking at a well-equipped custom-crush operation nearby in Napa Valley.
"It's a model that gives us incredible flexibility," Scott says. "As a small winery, we can go after niche markets and customers who appreciate the way a wine tells its story. If you're a large producer, you don't have that option – you have to deliver something that appeals to the masses, and gets positive reviews from the publications. And to keep your following, you have to replicate that flavor profile over and over again, regardless of whether its what the grapes want to say in any particular vintage."
Scott and Jana make about 10,000 cases of wine a year, 70% under the Scot Harvey label. The balance is comprised of their "InZinerator" Zinfandel blend, which is targeted toward the Millennial market, and their small-production, Napa Valley Jana wines, which are offered to wine-club members and sold in the Scott Harvey tasting room in Amador County. But wine lovers don't have to travel that far to hear what the grapes have to say – they just need to take a short trip East on Fulton Lane.
Keeping the Dream Alive
For winegrower Fulton Mather, running a winery is about keeping a dream alive, one that was started by his great grandfather in the mid-1800s.
Sited amid the oldest, continuously-operating, family owned vineyard in California, David Fulton Winery started as a stone wine cellar, built by its pioneering namesake in 1860. But the winemaker's dream was short-lived. The hard-working Fulton, who had made a name for himself as a blacksmith, community leader, and inventor of the "One-Horse Plow" (a narrow implement that revolutionized the early winegrowing industry by allowing growers to space rows of grapes closer together), passed away in 1871. With hired help, Fulton's wife, Mary, continued to operate the vineyard and wine cellar for another 17 years before closing the winemaking part of the business in 1888.
The 14.5-acre Fulton vineyard remained in the family, passing from one member to the next. In 1995, Fulton Mather, recently retired from sequential careers as a research psychologist, a tennis pro, and a system software engineer, returned to his family's St. Helena land as steward of a historic, old-vine Petite Sirah vineyard. Rather than soaking-in the peace of retired life in the Napa Valley, Fulton Mather decided to keep his grandfather's dream alive, and re-launched David Fulton Winery.
Fulton and his wife, Dink, painstakingly replicated the hewn-stone look of the original Fulton wine cellar, which now serves as the winery's foundation. Atop the cellar, they reconstructed the two-story winery building which had been severely damaged in a 1973 windstorm.
In 1999, Fulton and Dink Mather released the first, 50-case bottling from the "reborn" winery, ensuring that the David Fulton legacy would include a commercial vintage in each century since its founding.
Today, the David Fulton winery produces about 400 cases of wine a year, all old-vine Petite Sirah made from the dry-farmed, head-trained vines on the estate. Winery operations remain a family – and a neighborhood – affair, with Fulton and Dink managing the vineyard, tasting room, and wine club, their son Richard handling many of the day-to-day winemaking duties, and neighboring winemakers lending a hand to ensure that the award-winning David Fulton Petite Sirah expresses all the complexity and nuance present in the old-vine fruit.
Staying small is part of the game plan at David Fulton. "Our dry-farmed vines produce a very small crop – only about two tons per acre," says Dink Mather. "That gives our fruit an intensity of flavor, but it limits the amount of wine we can make." Fulton adds that there is a certain luxury in being small and off the beaten path. "We don't get a lot of drop-in traffic" Fulton says, "so our small family has a chance to tackle the work that needs to be done in the winery and in the vineyard – and there's a lot to be done." Fulton adds, "Because most of the people who visit have found us through word of mouth and referrals from other wineries, they're very engaged and interested in what we do, which makes for a great wine-tasting experience for them, and for us as well."
Running the David Fulton winery and vineyard is not without its challenges. Among these are the threat of urban encroachment, which weighs heavily on Fulton Mather's mind. The rural winery is surrounded by vineyards on all sides, with Napa Valley hillsides in the distance. But just a few hundred yards from this idyllic setting is a growing encirclement of businesses and homes in St. Helena. Fulton knows that preserving his family's legacy adds deep meaning to the responsibility of owning the vineyard and winery, and that keeping his great-grandfather's dream alive means returning value to the land, so that it will remain rural for generations to come.
Camaraderie and Community
Though they differ in their styles and varietal preferences, the winemakers and winegrowers of Fulton Lane share a sense of camaraderie and community that creates a vibrant synergy for the little street. And soon, they'll be sharing something else – a communal vintage of Cabernet Sauvignon blended from just four barrels, made only from vineyards and only by winemakers on the Lane. It promises to be a shining jewel on a street full of winemaking gems. And it will be available only at the historic winery on "the other side of the tracks" on Fulton Lane.
Tasting Information
Visitors to Fulton Lane can taste each of the winery's offerings by appointment. Tastings should be arranged a minimum of 24 in advance.
Calafia Cellars
629 Fulton Lane
St. Helena, CA 94574
http://www.calafiacellars.com
707-963-0114
Randle(at)calafiacellars(dot)com.
Scott Harvey Wines
830 Fulton Lane
St. Helena, CA 94574
http://www.scottharveywines.com
707-968-9575
jana(at)scottharveywines(dot)com
David Fulton Winery
825 Fulton Lane
St. Helena, CA 94574
http://www.davidfultonwinery.com
707-967-0719
info(at)davidfultonwinery(dot)com