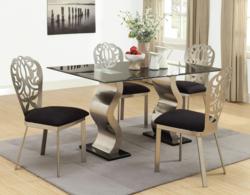 In terms of quality and variety our collection of glass coffee tables and glass dining tables is second to none," noted company spokesperson Tony Ashford
Orange, CA (PRWEB) October 01, 2012
eFurnitureHouse.com announces the launch of an exquisite new line of glass dining tables and glass coffee tables to enhance its product line offering and expand its presence in the highly in demand dining furniture category in time for the holiday shopping season. The magnitude of the expansion will significantly enhance the entire online shopping experience, ensuring that eFurnitureHouse.com remains a great shopping destination.
The newly released line offers those who covet modern style a combination of sophistication and edginess, combining distinguishing characteristics that prove visually inviting. Sets appear light and airy with focus on shaped chrome metal detailing. The Anzu modern chrome round glass dining table set is highlighted by three creatively shaped cylindrical pedestals in chrome finish, black base plate and beveled glass top. The Arista modern glass chrome dining table set showcases two serpentine chrome bases to raise and support a rectangular black beveled glass top. The creativity did not stop here; the Arista is also available in a rose gold plated finish, taking this set to a whole new level of sophistication. The Janelle contemporary table set details include chromed O-rings that form together to create an inverted cone shaped table base.
The glass coffee table collection has induced a multitude of introductions that put an emphasis on modern design. The newest designs also reflect a "less is more" approach that is in step with times. The Alena Modern rose gold finish glass coffee table showcases two simple arches that support a glass top, Anzu modern chromed coffee table set features two torpedo-shaped pedestals that support the top, the Armada satin square glass coffee table features an abstract styled base. The Allora modern round glass coffee table features three dice-shaped look-alike bases that rise to support a glass top, and Alvita chromed square glass coffee table showcases a twisted metal base.
In terms of quality and variety our collection of glass coffee tables and glass dining tables is second to none," noted company spokesperson Tony Ashford.
The makeup table collection is continuously being expanded with the latest trends and styles; among the standouts are Ria espresso makeup table set, Charlotte soft white makeup vanity table set, Christine white makeup dressing table, Katherine white chrome class dressing table, and the Taylor cappuccino vanity desk. eFurnitureHouse offers some of the best pricing in the industry, in addition consumers are able to save at checkout using many of coupons offered. Furthermore, eFurniturehouse will be using FedEx and UPS exclusively to ship all makeup vanity tables this upcoming holiday season, using these industry leaders enables customers to track shipments online as well as providing a timely delivery.
Mission dining tables are making a comeback, among the trend-setters is the mission bungalow dining collection featuring an Arts and Crafts look, combined with a beautiful Pasadena oak finish, together gives your home a look that's personal and unique. The Bungalow collection offers several pieces, dining furniture, mission platform beds, mission beds, nightstands, dressers and chests. Each piece in the Bungalow collection boasts a beautiful sense of rustic design, brought to life by the warm details.
eFurnitureHouse.com offers
EFurnitureHouse.com is an Orange County, California based online retailer with close ties to major furniture manufacturers on both sides of the Pacific, which enables it to offer the consumer the latest trends in furniture at the lowest possible prices.