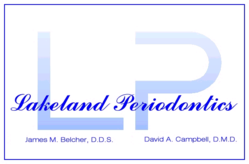 Lakeland, FL (PRWEB) October 01, 2012
Drs. James Belcher and David Campbell of Lakeland Periodontics are introducing a breakthrough in patient care called Laser Assisted New Attachment Procedure for periodontal disease treatment. The minimally invasive gum disease treatment provides options for patients in need of surgery.
Periodontal disease is responsible for over 75 percent of all adult tooth loss in the U.S., and in most cases it is treated with gum surgery, tooth extractions or a combination of both procedures. At Lakeland Periodontics, LANAP is now available as an alternative to these traditional methods.
Unlike conventional treatments, which require invasive gum surgery involving scalpels, cutting and sutures, LANAP is a minimally invasive surgery that uses lasers to detect and repair diseased tissue while leaving healthy tissue unharmed.
Doctors at Lakeland Periodontics perform LANAP using the Periolase MVP7, the only laser that is FDA cleared and has human histology research supporting its claims for gum disease treatment.
When performing LANAP, doctors use a laser to measure the depth of periodontal "pockets" and determine how much the gums have separated from the teeth. A pulsed laser light then removes diseased tissue and kills harmful bacteria that may cause gum disease. The laser also stimulates the tissue and causes blood to become sticky, forming a seal around the teeth so the area is clean, closed and will not be susceptible to further infection.
Patients who have visited Dr. Belcher and Dr. Campbell for LANAP report many benefits to the laser procedure, including less pain than traditional surgery and very little time off before returning to normal daily activities.
The procedure also reduces post-surgical gum recession, which can lead to painful sensitivity. Additionally, according to Dr. Belcher and Campbell, LANAP decreases healing time by reducing inflammation and eliminating harmful bacteria that reside in the mouth. This bacteria can find their way into the gums after they are cut during a surgical procedure. The cost of LANAP is the same as traditional gum surgery.
Doctors at Lakeland Periodontics say patients who choose LANAP can usually expect predictable tissue reattachment in the area where the periodontal disease treatment is performed. In many cases, this procedure also reduces the need to have teeth extracted at a later date, because it provides stimulation to regenerate tissue and bone around the diseased tooth.
Dr. Belcher and Campbell note that LANAP is not the best solution for everyone suffering from periodontal disease. Some cases may still require traditional surgery. Visit Lakeland Periodontics to find out if you qualify for the new laser gum disease treatment by visiting http://www.lakelandgumsurgery.com.
About the Practice
Lakeland Periodontics is a periodontal practice offering patients personalized dental care in implant dentistry for Lakeland, Florida. Dr. James Belcher and Dr. David Campbell are both certified periodontists with years of training and experience in dentistry. Their practice is part of one percent of dental professionals providing the most recent FDA cleared laser procedure for gum disease and periodontal treatment. Lakeland Periodontics is a practice limited to Periodontics and dental implants. To learn more about Lakeland Periodontics, their dental services and dental implant placement visit their website at http://www.lakelandgumsurgery.com or call (863) 594-1351.