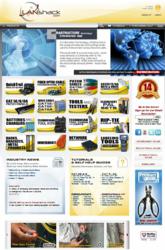 LANshack.com is a one-stop-shop for everything cabling and connectivity
Beachwood, NJ (PRWEB) October 02, 2012
LANshack.com, an online distributor of high quality datacom products - such as copper cabling hardware, fiber optic cable assemblies, tools and testers – has launched its 4th generation website with a fresh, contemporary look. The upgraded user-friendly site includes many new features to aid in the selection and purchase of network cabling infrastructure products, from streamlined navigation to expanded informational offerings, a quote generation system, and an easy checkout process.
"While serving customers on the Internet for 14 years, we at LANshack.com have listened to our customers' needs and revamped our website accordingly," states Tony Casazza, founder and President. "With this website redesign it is even easier for customers to find the best quality product for their project at an affordable price and there is now a system that quickly generates quotes for their convenience. Because we believe so strongly in the quality of our products, and to become interactive and transparent, we encourage customers to write product and customer service reviews for all to see," continues Casazza. "To enhance LANshack.com as a one-stop-shop for everything cabling and connectivity we have expanded the tutorials and how-to videos of installation best practices and made our informative industry articles more visible."
The new website includes the following features.
Navigation
A new product menu system with "buttons" helps users to find what they are looking for quickly and easily. These also make it easier to navigate the site on an iPhone or iPad.
Products
The product pages include better product descriptions and pictures, as well as more downloadable product specification sheets. Customers can now write product reviews and include testimonials about their customer service experience, allowing new users to have more information before making a purchase.
Quotes
An automatic Quote Generating System enables users to quickly generate their own price quotes that include shipping costs. It is not even necessary to register in order to do this. The new system generates a unique quote number that allows the user to save their quotes and then place that order automatically.
Informational offerings
New tutorials and how-to videos are now easy to find on the home page. This section includes tutorials on fiber optics, Cat5E/6E/6A cabling, designing your network, and Tech Tips by Tony. In addition, finding the latest news in the industry has become easier, with the ten new Industry News articles posted each week now more visible on the home page. These articles address issues and developments in the networking industry, and the latest news in networking infrastructure, cabling technology, and "Green IT".
Special Programs
Information on special pricing for Government, Education, and Resellers, as well as special instructions for International customers, can be accessed from the home page.
All these value-added changes make LANshack.com an easy-to-use resource. More website features are in the planning stages and will be rolled out in the coming months. Visit the new website at http://www.lanshack.com . To obtain additional product information, call LANshack.com at 888-568-1230.
# # #
About LANshack.com
Founded in 1997, LANshack.com is an online distributor of high quality datacom products - such as copper cabling hardware, fiber optic cable assemblies, tools and testers - catering to the low voltage cabling industry for use in premise networks, security, and electrical applications.