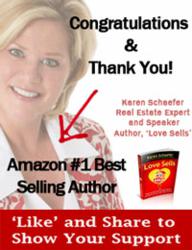 "When there is an elephant in the room, talk about the elephant. In this case it is the fact that homes could be selling twice as fast as what they are if sellers, investors and agents were willing to do something completely old-fashioned." Karen Schaefer
Manitou Springs, CO (PRWEB) October 02, 2012
"A home seller needn't look far for information on how to sell a home in half the time at full market value even in today's real estate market. The question everyone should be asking (and so should you) is this: are you really getting the full story?" Karen Schaefer, a leading expert in Real Estate Sales revealed, "It's time we separate fact from fiction, and myths from truths. The real story here is there is a way to sell homes in half the time at full market value right now."
As proof, Karen Schaefer Best Selling Author of newly released 'Love Sells; How to get Every Home Buyer to Fall in Love with your House', asks For Sale By Owners, Real Estate Agents, and Real Estate Investors to consider the following three areas* before deciding on simply sticking a sign in the yard and an ad in the paper in the hopes the home will be under contract in 30 days.

Currently, as of mid 2012, there is enough existing home inventory supply at the current sales pace for 6.6 months. So how do you make your home so memorable that it rises above all the others in order to sell your house in half the time at full market value?
25% of all June 2012 Home Sales were comprised of foreclosures and short sales. You must decide to take fast and specific action to make sure you are not one of these statistics.
Source: National Association of Realtors.
Parts of the US are still experiencing days of market of over 250 in home sales! If you want to list, sell and move in less than 8 months, you should be prepared to exponentially differentiate your home from any other home of a similar type on the market in your area in order to get your home sold.
Karen Schaefer is the author of Amazon #1 Best Selling real estate book, 'Love Sells; How to get Every Home Buyer to Fall in Love with YOUR House,' and a trusted authority on real estate investing, real estate sales, real estate marketing, home staging and curb appeal. She is also the Founder of APSD, The Association of Property Scene Designers, a Worldwide Real Estate Marketing and Home Staging Training company in 14 countries along with being the owner of Simple Appeal Home Staging and Design. Ms. Schaefer has been featured in over 25 Major newspapers, blogs, TV Channels and press releases spanning the US, Canadian and European Markets.
Including:

Wall Street Journal
Victoria Times
More.com
Calgary Sun
RIS Media
San Francisco Chronicle
HGTV
…along with many others and has spoken in front of thousands on such topics as marketing homes for sale, massive open house events, selling vacant and distressed properties, effective home staging and curb appeal, investing in real estate and building home staging and real estate businesses.
To receive access to our international home staging photo portfolio and find out how you can sell your home in half the time at full market value, go to http://www.LoveSellsBook.com
For media inquiries, please visit http://www.LoveSellsBook.com/Media for access to Karen Schaefer's media kit.
# # #